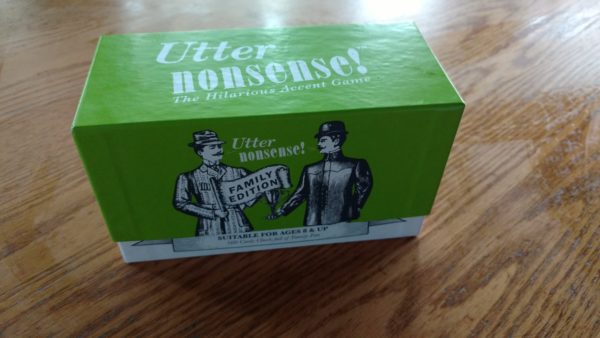 My girls have discovered a new game they love to play called Utter Nonsense. I wasn't quite sure what to expect when this box of cards showed up, but it has been a blast with the 'family edition'. Please note there is a 'naughty version' for adults only too.
Players get a silly accent card and combine that with silly phrases. Try to rap out "Don't eat your boogers. Here, eat mine instead." Or "If I think therefore I am, then I shall be Beyoncé." Not easy, is it?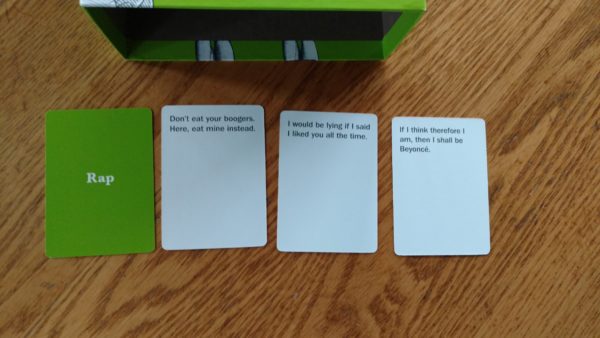 Utter Nonsense: Family Edition is recommended for ages 8+. We tried to include my son who is six, but it was hard to read the cards to him and then have him repeat the wording from a card with an accent. We have only used 4 players when playing this game, but it can be up to 20 players! The time needed is 30 minutes plus.
Rules of Play
One player is labeled the Nonsense Judge. The box says to select the person deemed to have the stinkiest feet. 😉
Then the Nonsense Judge deals 7 Phrase Cards to each player. One Accent Card is turned up from the top of that part of the deck and is visible to all players.
Once the Accent Card is shown, players select one Phrase Card from their hand to say in the accent indicated.
The Nonsense Judge decides which player's phrase and accent is the funniest. That player then wins the round.
The winning player retains that round's Accent Card and becomes the Nonsense Judge for the following round.
The first player to win 5 rounds wins the game.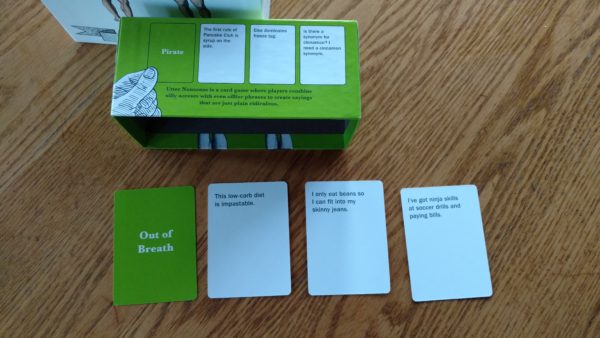 Utter Nonsense is only available at physical Target stores and on target.com. The price is approximately $19 – 25, depending on the version.
Disclosure: I received a product sample for this review. No other compensation was received for this post.