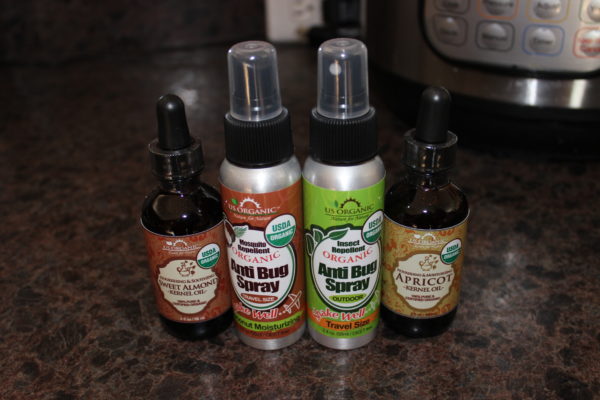 Us Organic Group Corporation is a leading supplier of certified organic products. They offer a line of natural and organic skin care products that make your skin healthy and happy and are certified "Cruelty Free" by the Leaping Bunny Program. Their products are also made in the USA.
Body Oils
US Organic's Body Oils help keep the skin soft and supple, plus they are lightweight and easily absorbable for delicate skin. Considered far more effective at moisturizing than other conventional lotions, they can be applied after bathing and are great for massages. The line comes in 5 oz bottles and five unique scents: Bulgarian Rose, Caribbean Coconut, Lavender, Orange and YlangYlang Flower.
Essential Oils
US Organic's Essential Oils can be used in various ways from aromatherapy and personal beauty care to household cleaning products. Available in various sizes from 10 ml – 16 oz, the scents include: Citronella, Lavender, Lemongrass, Peppermint, Sweet Orange & Tee Tree.
Carrier Oils
US Organic's Carrier Oils are perfect for moisturizing and nourishing the skin and come in a variety of fragrances including Apricot Kernel Oil, Sweet Almond Kernel Oil, Pumpkin Seed Oil, Sea Buckthorn Oil, Jojoba Oil-Golden, Moroccan Argan Oil, Tamanu Seed Oil, and Rosehip Seed Oil. Each scent has a distinct benefit. This line comes in various sizes—2 oz, 4 oz and 8 oz .
Oil Blends
US Organic's Beard Oil is made with natural antimicrobial properties created to condition and protect hair follicles, remove knots and prevent ingrown hairs, itching, and dandruff. Available in a 2oz bottle, the oil softens facial hair, adds body and shine and moisturizes skin, plus it keeps facial hair flake-free and smelling fresh all day long.
US Organic's Anti Bug Spray is safe-to-use Herbal Insect Repellent made from nine premium organic ingredients. Anti Bug Spray Outdoor's formula provides long-lasting protection against bugs and mosquitoes. It is the best solution for babies, kids, expectant moms and elders to avoid chemical products. The active ingredients include a base of soybean oil and castor oil with lemongrass oil, cinnamon oil, peppermint oil, rosemary oil. It has a light lemony scent.
ABOUT US ORGANIC GROUP
US Organic uses powerful, healthy and natural ingredients to gently treat and nourish the skin. The company has extended its product line to organic repellents, body oils, and baby oils.
A certified organic products' manufacturing company, US Organic appreciates what nature has provided us—powerful yet gentle ingredients. Our mission is to provide the best and safest products that are in harmony with nature. More info can be found here: www.us-organic.com. 
Disclosure: I received product samples for this post. No other compensation was received.