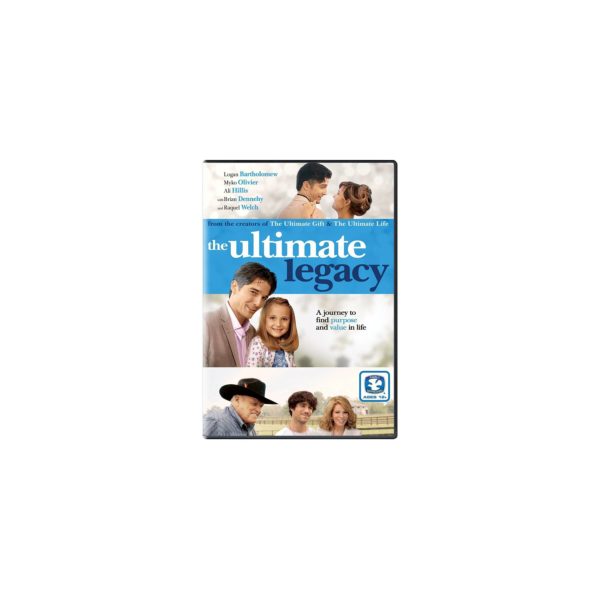 Earlier this month, The Ultimate Legacy came out on DVD from Cinedigm. This is the last installment in a trilogy inspired by the "Ultimate Gift" book series by Jim Stovall, a motivational speaker and author. I had not seen the two previous titles (The Ultimate Gift and The Ultimate Life), but thankfully did not feel lost in the story with watching this title alone.
The Ultimate Legacy features Logan Bartholomew, Lee Meriwether, Brain Dennehy, Myko Livier, Ali Hillis, Raquel Welch, Doug Jones, and Bill Cobbs. In this title, Joey Anderson (Olivier) lost his father to suicide and was raised by his grandmother. Joey was out on his own as a young adult when he received word that his grandmother had recently passed. In order to release his inheritance to him, Joey needed to do certain tasks over the course of one year before deemed worthy enough to receive it.
Jason Stevens (Bartholomew) is a repeat character in this trilogy. He is part of the firm hired out to carry out the grandmother's will for Joey to obtain his inheritance. Joey is challenged to appreciate hard work, practice generosity, learn to forgive, plus show value to his friends and family.
The Ultimate Legacy was hailed as "an inspiring film" by The Dove Foundation, and was awarded the "Family Approved" seal for children ages 12 and above.
DVD Basics
Price: $14.93
UPC Number: 883476151779
Item Number: UL5177
Language: English
Runtime: 99 minutes
Studio: ReelWorks Studios
Rating: Not Rated
About Cinedigm:
Cinedigm is a leading independent content distributor in the United States, with direct relationships with thousands of physical retail storefronts and digital platforms, including Wal-Mart, Target, iTunes, Netflix, and Amazon, as well as the national Video on Demand platform on cable television. The company's library of films and TV episodes encompasses award-winning documentaries from Docurama Films®, next-gen Indies from Flatiron Film Company®, acclaimed independent films and festival picks through partnerships with the Sundance Institute and Tribeca Films and a wide range of content from brand name suppliers, including National Geographic, Discovery, Scholastic, NFL, Shout Factory, Hallmark, Jim Henson and more.
Cinedigm™ and Cinedigm Digital Cinema Corp™ are trademarks of Cinedigm Corp. www.cinedigm.com. [CIDM-G]
Disclosure: I received a copy of this title to review. No other compensation was received for this post.