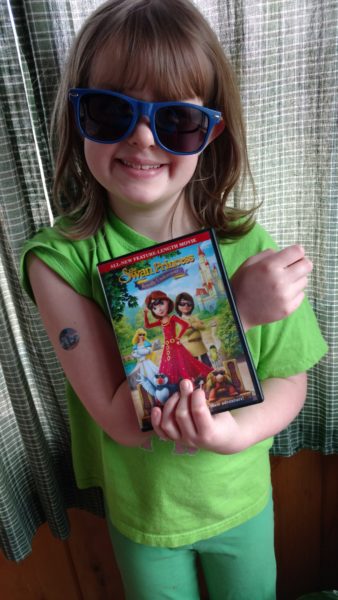 Tomorrow, Swan Princess: Royally Undercover hits store shelves on DVD from Sony Pictures Home Entertainment. This is the newest title featuring Princess Alise, Lucas, and friends using detective skills to find out if this new visitor on the island can be trusted. Lord Rogers has provided some pretty cool spy gadgets to help the crew on their journey. Featuring fan-favorite characters and all news faces, this seventh installment is the perfect fit for a new generation of Swan Princess fans, as well as nostalgic fans of the franchise.
Bonus Materials Include a Behind-the-Scenes Featurette with Macy Kate in the Recording Studio
Join "The X Factor" star Macy Kate in the studio as she records the theme song for THE SWAN PRINCESS: ROYALLY UNDERCOVER, "Born to Be Me." Macy Kate also sang the theme song in the previous installment, THE SWAN PRINCESS: PRINCESS TOMORROW, PIRATE TODAY, which was titled "I'll Be Your Star."
Directed by Richard Rich from a story by Richard Rich and Brian Nissen, and a screenplay by Brian Nissen, THE SWAN PRINCESS: ROYALLY UNDERCOVER was produced by Richard Rich, Seldon O. Young, and Jared F. Brown, with Seldon O. Young, serving as executive producer.
DVD Extras Include:
In the Recording Studio with Macy Kate
THE SWAN PRINCESS: ROYALLY UNDERCOVER has a run time of approximately 79 minutes and is rated G.
Disclosure: I received a copy of this title to review. No other compensation was received for this post.