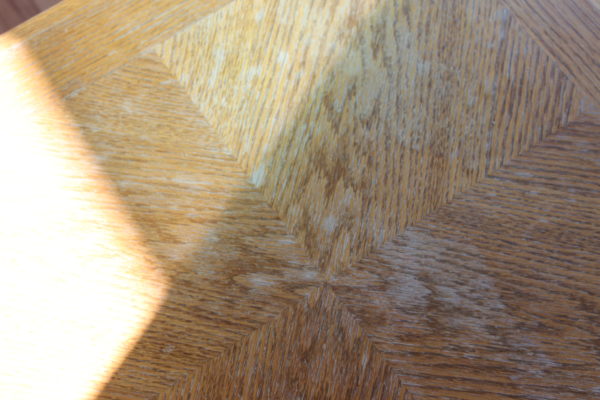 After my husband and I were married in 1999, we purchased a coffee table and end tables for our apartment. Fast forward 17 years later and I am kind of embarrassed to admit we still have these pieces. They have made it through a couple moves, markers, crayons, spilled sippy cups, and more.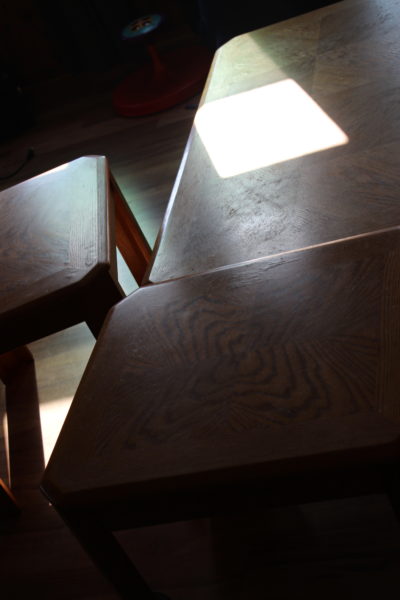 I was approached by a representative for The Real Milk Paint Co. to do a project this summer with some their products. I am by no means a DIYer so this project has taken me a lot longer than expected. I thought tackling the coffee table and two end tables may give them an extended life instead of tossing them out like we had planned.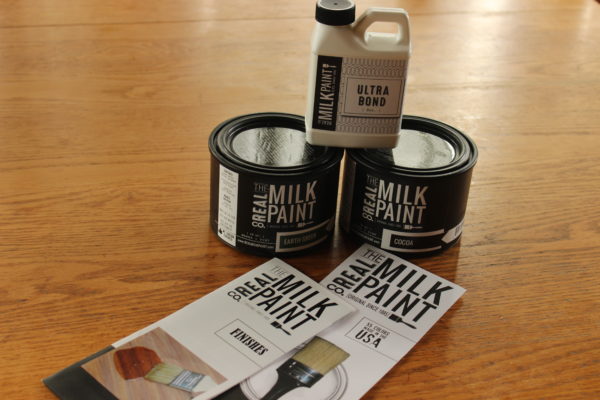 Since we have light hardwood laminate floors, wood paneling that I may someday paint on the walls, and cream couch/loveseat, I thought going dark may make these tables a bit more current.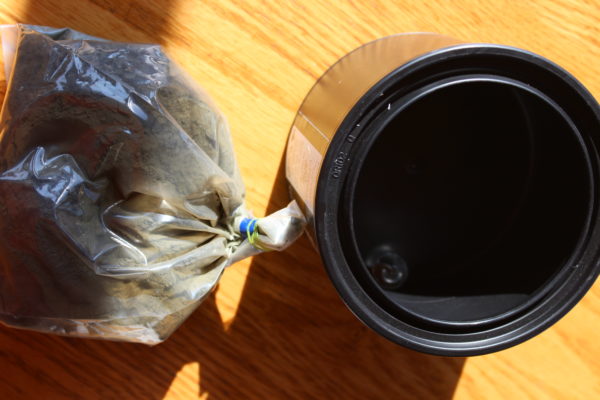 Real Milk Paint gives a matte or chalky paint surface. Colors can be intermixed to your liking and are great to repurpose furniture, walls, or ceilings. This product is non-toxic, environmentally friendly, and comes in a wide selection of colors. There are no stinky, harmful fumes.
Milk paint cans come with a bag of dry powder and have a marble in them for mixing. The powdered paint is mixed with equal amounts of water and they are shaken to mix. It is recommended to let the mixture set about 20 minutes so it thickens. It seems to be a bit foamy if you use it too quickly. Occasional stirring is recommended during this timeframe. You can mix these paints the night before and refrigeration is okay for storing the mixed milk paint for up to two weeks.
Since the tables I was using had a veneer finish, I could not sand down their surfaces to allow for better adhesion. I cleaned them and was sent The Real Milk Paint Co. Ultra Bond Adhesion Promoter to skip the sanding step. This product is non-toxic and releases no VOCs. When it has been combined with Real Milk Paint it will create better adhesion to non-porous surfaces and previously painted surfaces.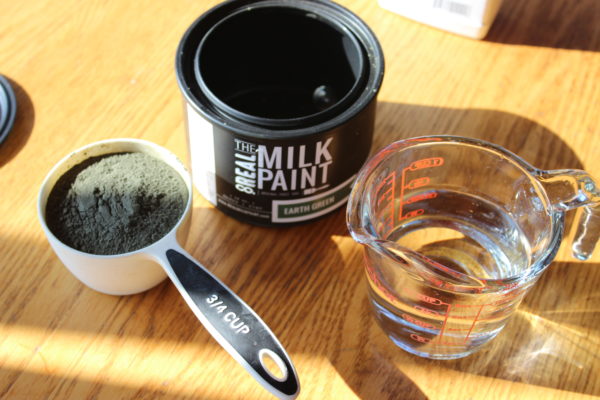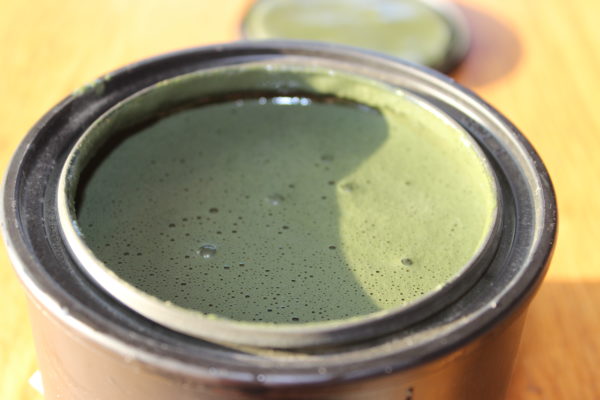 My original plan was to apply The Real Milk Paint Co. Earth Green to the table tops and then Cocoa to the legs. I started with the earth green first and pictured below are the table tops with their first coat. You want to wait 24 hours for the application to dry, but it does feel dry to the touch quickly after application.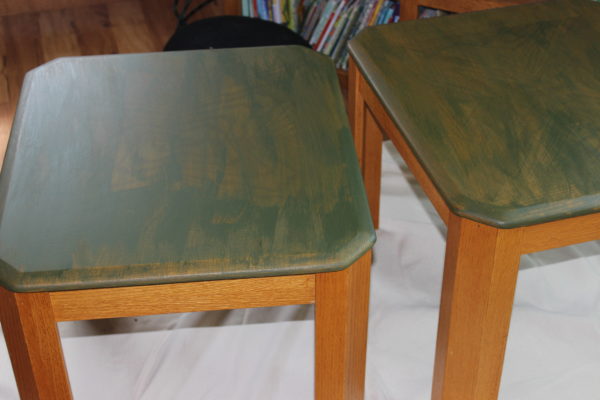 Four coats later, I felt coverage was good and water rings were now masked on the surfaces. 🙂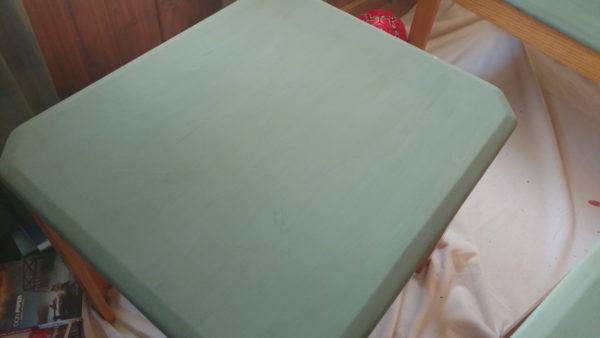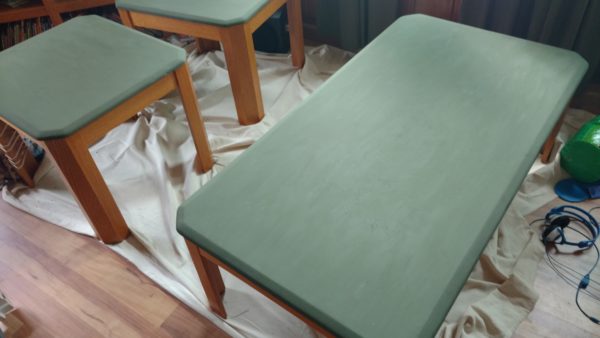 I then tackled the frame with The Real Milk Co. Paint Cocoa. I applied two coats of it with the Ultra Bond Adhesion Promoter added to it.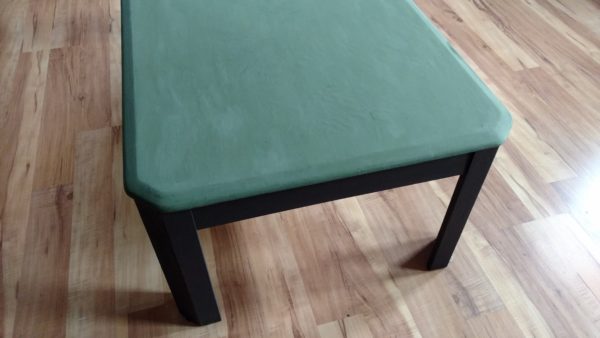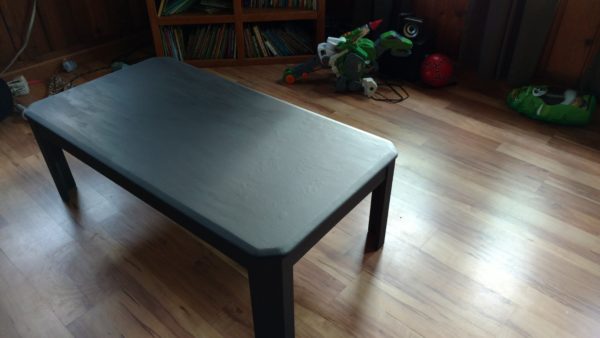 After a few days of having the tables back in the living room, I decided to paint the set entirely in cocoa. I know if I want to change it up, I can always go back to green or add other colors because this product is so forgiving. Clean up is a breeze too.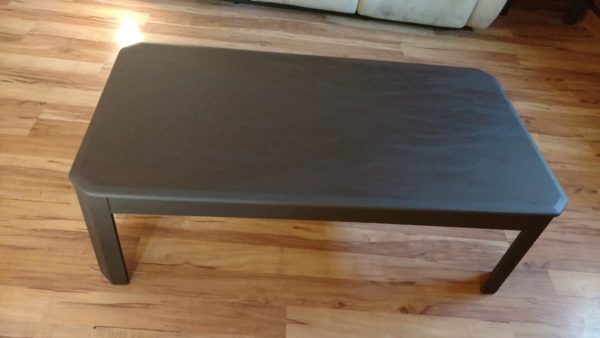 I am very satisfied with the look of the tables now that they have been painted with The Real Milk Paint Co. The pints of paint, like I was sent, run $13.99 each and cover 35 sq. ft. They are also available in a sample size, quarts, and gallons.
The Real Milk Paint Co. Ultra Bond Adhesion Promoter is available in 8 oz., 16 oz., 32 oz., and a gallon. Its price starts at $10.99. Oils, finishes, and waxes are also available from The Real Milk Paint Co.
Disclosure: I received product samples for this review. No other compensation was received. The thoughts and feelings expressed are my own.