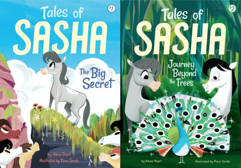 My two girls were excited to pick up and read the Tales of Sasha from little bee books. Sasha, the star of this series, is a little horse who discovers she has a big secret. She can fly!
The first two books in the Tales of Sasha series was published on January 3, 2017. In Tales of Sasha: The Big Secret, we are introduced to Sasha and Wyatt, two young horses that live in Verdant Valley. Sasha has always felt a bit different from the others and looks different from her sisters. She also has a patch on her back and her sisters do not. When the patch begins to itch and sparkle, she soon starts to fly! When Sasha tells these developments to her parents, they tell her that they found Sasha wrapped in a golden blanket years ago with a note that read "Please keep Sasha safe until we can see her again". To get a better understanding of her past, Sasha decides to go on an adventure with Wyatt by her side to find her birth parents.
Book Two, Tales of Sasha: Journey Beyond the Trees continues on the journey that Sasha and Wyatt took off on in the first installment. Will Sasha learn where she came from and meet horses that are just like her?
This series is recommended for children ages 6-8. My one daughter is older than that, but she found them to be a quick, enjoyable read. This series would be great for My Little Pony fans or any young horse lover.
Disclosure: I received copies of these two books for review. No other compensation was received for this post.