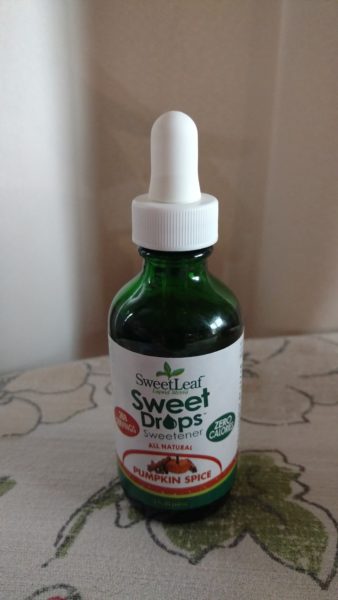 Fall is upon us and all things pumpkin are again a treat. SweetLeaf has released a new flavor to their Sweet Drops and it is sure to be a seasonal hit – Pumpkin Spice. These drops can be added to various drinks and foods. I love them in my morning coffee.
SweetLeaf 2 oz. Liquid Stevia Sweet Drops:
Zero calories
Zero Carbs
No sugars
No artificial ingredients
Non-glycemic response
If stevia is new to you, it is a natural sweetener made stevia leaf extract from the stevia plant. It is quite sweet so a little goes a long way. I add a few drops to my drink in the morning. The 2 oz. bottle of SweetLeaf Sweet Drops in Pumpkin Spice provides 288 servings with adding 5 drops to your beverage or food!
Here are some eye-opening numbers. A pumpkin spice drink at a national coffee shop chain has about 380 calories, 52 grams of carbs, and 50 grams of sugar. SweetLeaf's recipe below for a similar drink has only 149 calories, 18 grams of carbs, and 15 grams of sugar.
Pumpkin Spice Sweet Drops are available at ShopSweetLeaf.com.
Simply Delicious Pumpkin Spice Latte
1 cup milk, divided
12 drops SweetLeaf® Liquid Stevia Pumpkin Spice Sweet Drops™
1 Tbsp. canned pumpkin
1 tsp pumpkin pie spice, plus extra for sprinkling, if desired
½ tsp vanilla extract
¼ cup brewed espresso
Whisk ½ cup milk, Pumpkin Spice Sweet Drops, pumpkin puree, pumpkin pie spice, and vanilla extract in small saucepan over low heat. Simmer for 5 minutes.
Whisk remaining ½ cup milk and simmer, whisking continually, for 2 minutes. Add espresso and whisk until foamy—about 1 minute. Pour into a mug, and sprinkle with extra pumpkin pie spice, if desired. Makes 1 serving.
Disclosure: I received a product sample for this review. No other compensation was received.