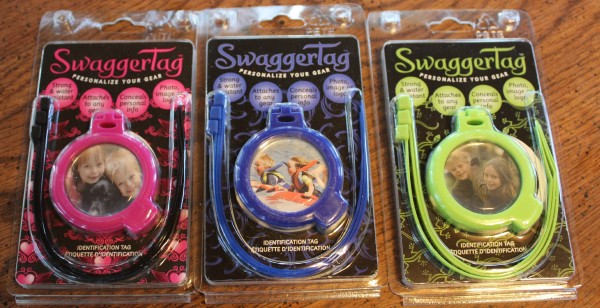 SwaggerTag is a unique way to personalize your gear with a customizable identification tag. This product allows you to insert your own image, photo, message, logo, or download one from their "Window Art" library. I had received some rub on tattoos that can also be used for personalizing your SwaggerTag.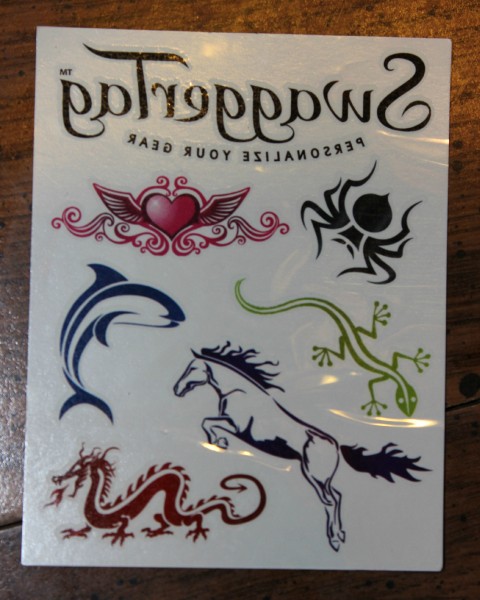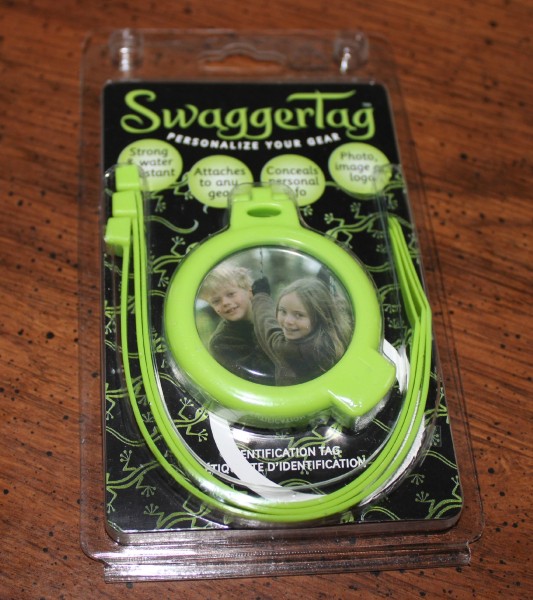 Each SwaggerTag comes with 3 cable ties. This allows you to cut the tie and place the tag with a new one on a different item. 1 SwaggerTag unit, 2 protectors, 1 ID circle, and 1 circle template are also included.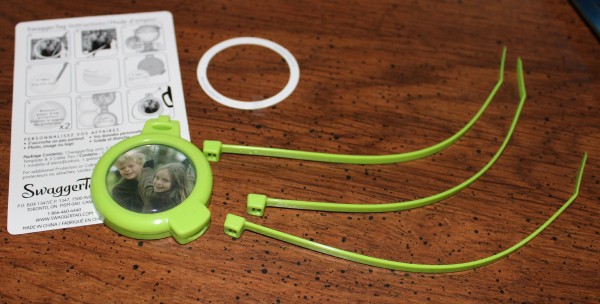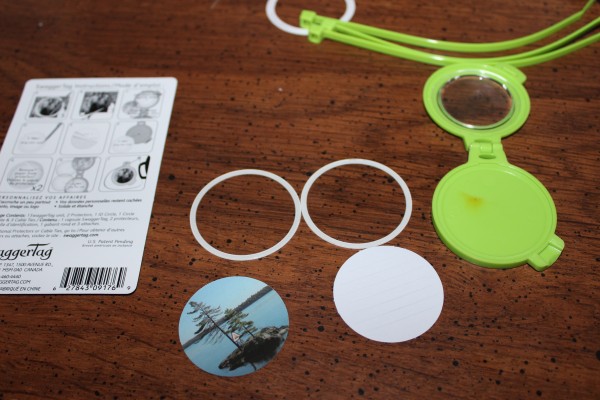 Now as far as creating your SwaggerTag, I cheated. My kids all wanted images of themselves where I found it hard to crop without removing too much so I shrunk the images and printed them, and then mounted them on a circle of scrapbooking paper.
If you were to have a great image, you would use the template and cut out the photo. Then it would be reversed and placed upside down in the viewable side of the SwaggerTag and sealed with a protector.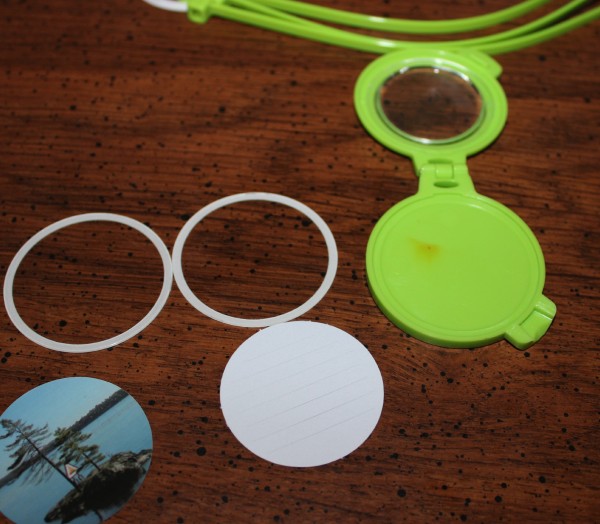 The circular protectors have an adhesive ring that is exposed once you remove the paper backing.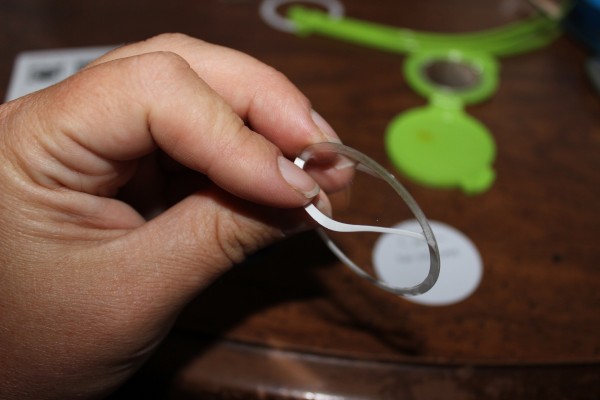 Press down firmly to help seal and protect your image.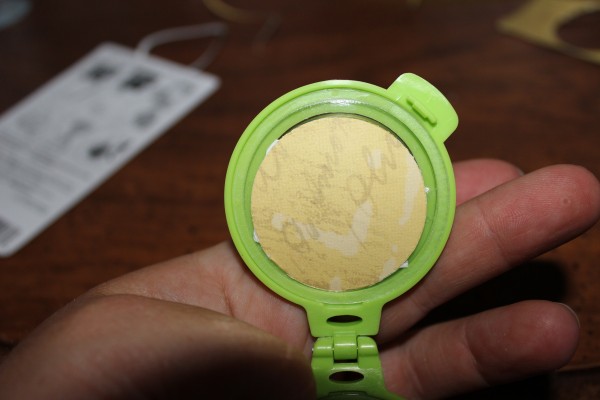 The other side has the ID circle and a protector to apply too. You can write whatever you want on it. This information is hidden until the SwaggerTag is opened.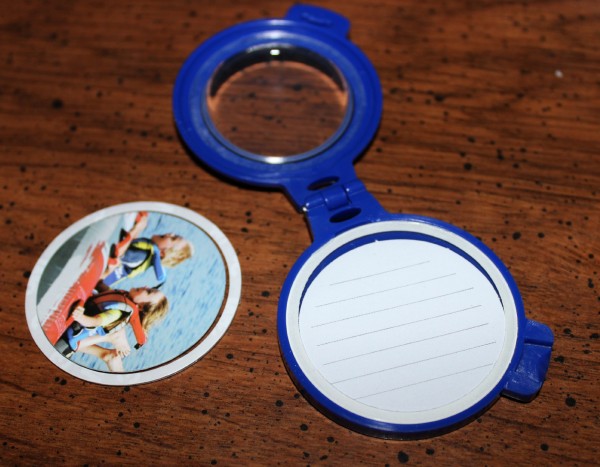 When the SwaggerTag is closed, the image may be viewed on the front/top.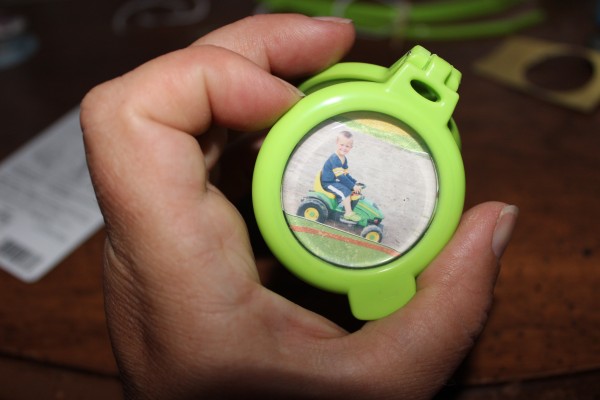 I received SwaggerTags in Dolphin Blue, Gecko Green, and Hot Pink. They are also available in Mustang Purple, Dragon Red, and Spider Grey. The suggested retail is $3.99 each.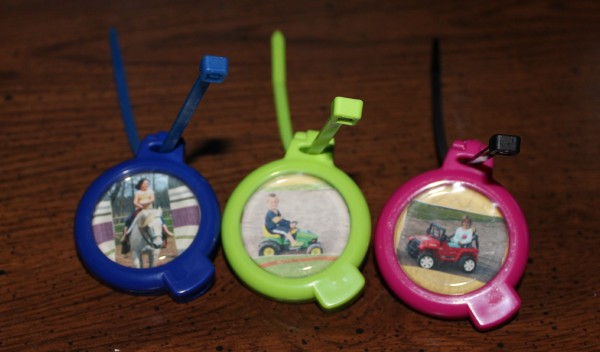 SwaggerTag is made of high quality, food grade plastics, which are free of paints and bisphenol. They are also packaged in recycled materials. This product is not to fade, come apart, unscrew, or break.
The cable ties are rate for 50 lb. tensile strength and can attach to backpacks, luggage, golf bags, stollers, pet collar, bicycles, wheelchairs, plus much more. SwaggerTags are water, weather, and impact resistant. Handling SwaggerTag firsthand, I would agree that they feel quite durable and the two sides click firmly together. I have handled other ID tags that are sloppy when closing.
This product is available in the U.S., Canada, and UK. They are available through the website, SwaggerTag.com too. If you own a SwaggerTag and there is a desire to change the personal information or the window image, a refurbish kit may be purchased online at a cost of $1.25.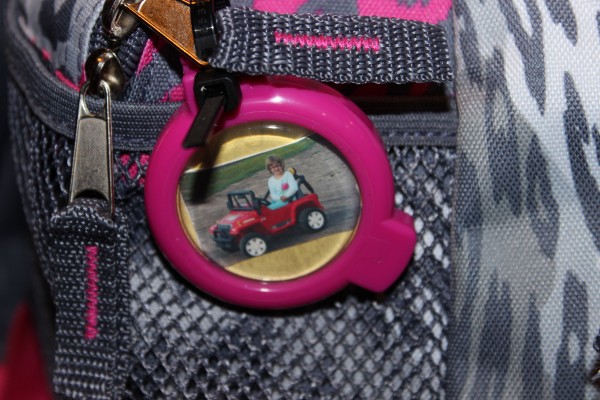 Companies, organizations, and even schools can order their logo to be added to the outside window, and include an "if found" address for the inside top section. I think this would be cool for a staff gifting and use, fundraising, or to simply identify company property.
SwaggerTag on Social Networks:
SwaggerTag on Twitter
SwaggerTag on Facebook
SwaggerTag on Pinterest
SwaggerTag on LinkedIn
Disclosure: I received SwaggerTags to review. No other compensation was received. The thoughts and feelings expressed are my own.