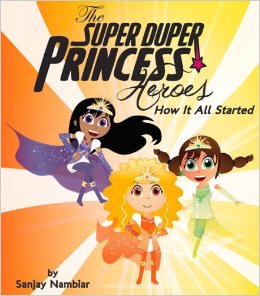 Author: Sanjay Nambiar
ISBN: 978-0-9838243-9-8
Suggested Retail: $16.99
By Umiya Publishing
Hardcover with dust cover
I had the opportunity to review one of Sanjay's other books titled Maybe in the past and was excited to view his new title introducing The Super Duper Princess Heroes. This book features three girls named Kinney, Oceana, and Sammie who start this story by playing in the woods and find a mysterious silver bag. It has three glittering tiaras in it that when placed on their heads, give them each a different super power. This is kind of a mouthful, but a Fairy Teacher Mother Superstar Queen named Betty appears and explains why the three girls have been given their special powers and what qualities they must retain to keep their powers; working together, being humble, and helping others.
Sanjay wrote this book to help girls feel empowered and to show that princesses were not just about fancy gowns and sparkly gems. They are instead courageous and independent. He was inspired by his six-year-old twin daughters to write this book.
The Super Duper Princess Heroes is recommended for children ages 5-7 (kindergarten – grade 2). I read this book to my 6-year-old and she loved the story. With this title being "How it All Started", I hope more in a series will follow. I liked the balance of the beautiful princesses with sharing a positive message in The Super Duper Princess Heroes. Little girls, be inspired to make a difference in your world.
Other Books from Umiya Publishing
"Maybe (A Little Zen for Little Ones)"
"Still There? (A Little Zen for Little Ones)"
"Remember the Stars (A Little Zen for Little Ones)"
Disclosure: I received a copy of this book to produce an honest review. No other compensation was received for this post.