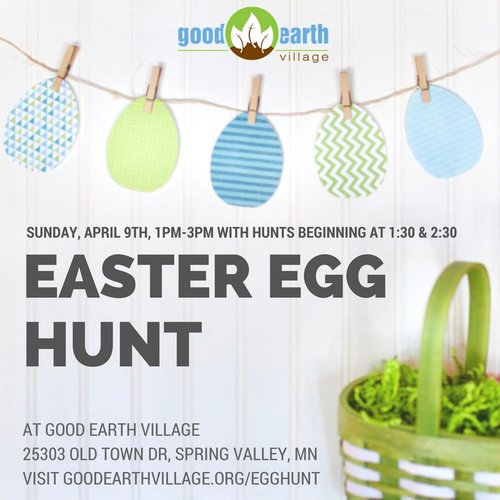 Sunday, April 9th from
1:00 p.m. – 3:00 p.m.
Good Earth Village
25303 Old Town Dr
Spring Valley, MN 55975
In collaboration with the Spring Valley Chamber of Commerce, Good Earth Village will host the Easter Egg Hunt on
Sunday, April 9th
from
1 – 3 p.m.
With a terrific view of the valley, your family will love this fun afternoon adventure. Hunts begin at
1:30 pm and 2:30 pm
, with separate options for ages 0-7 and 8-12. For uncooperative weather, meet in Log Lodge, and the hunt will go on! Find out more and RSVP at
http://goodearthvillage.org/egghunt
For almost 50 years Good Earth Village has been a summer Bible camp for youth and a year-round center for lifelong learning. In addition to youth and adult programs offered, their facilities and 506 acres at the edge of beautiful bluff country are available for meetings, retreats, and other events. Please visit
www.goodearthv
illage.org
for more information or call
507-346-2494
to schedule a tour.