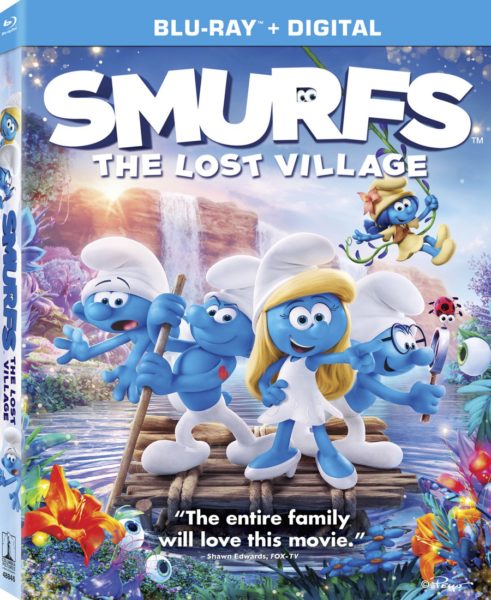 When I was a child, I remember catching up with the Smurfs as part of the Saturday morning cartoon lineup. Several years later, the Smurfs have returned in this cute animated film, Smurfs: The Lost Village. This title is now available on digital, Blu-ray, and DVD. You and your family can now enjoy these lovable blue creatures together.
SMURFS: THE LOST VILLAGE from Sony Pictures Home Entertainment features an all-star voice cast, including platinum-selling recording artist Demi Lovato (Camp Rock franchise) as Smurfette, Emmy®-nominated comic actor Rainn Wilson ("The Office") as Gargamel, Joe Manganiello (Magic Mike) as Hefty Smurf, Jack McBrayer ("30 Rock") as Clumsy Smurf, Danny Pudi ("Community") as Brainy Smurf, Michelle Rodriguez (The Fate of the Furious) as SmurfStorm, Ellie Kemper ("Unbreakable Kimmy Schmidt") as SmurfBlossom, Ariel Winter ("Modern Family") as SmurfLily, with Mandy Patinkin ("Homeland") as Papa Smurf and Academy Award® winner Julia Roberts (Best Actress, Erin Brockovich, 2000) as SmurfWillow.
Smurfette goes against the wise advice of Papsa Smurf and takes off exploring in the Forbidden Forest a second time after a brief encounter with a set of mysterious eyes in the greenery looking back at her. Brainy, Clumsy, and Hefty tag along. A huge discovery is made in the forest and Evil wizard Gargamel is back to make things interesting with a few animal sidekicks to help him find the Smurfs, like Azrael.
SMURFS: THE LOST VILLAGE is bursting with bonus materials on the Blu-ray, 4K Ultra HD, DVD and digital releases. Along with filmmaker commentary, there are 10 fun and interactive featurettes, including Meghan Trainor's "I'm A Lady" music video and "Lost Village Dance Along" where you can join in the Smurf dance party. Get ready to represent your Smurf style with "Smurfify Your Nails" and create a Lost Village inspired manicure, then go inside "Baker Smurf's Mini Kitchen" to follow along and guess what's cooking, plus get step-by-step tutorials on how to draw your favorite Smurfs with three "how to" videos. Fans can also go behind the scenes as Demi Lovato auditions for the film and goes through a pretty tough interview with Smurfette herself in "Demi Lovato Meets Smurfette."
There is also "Kids At Heart! The Making of Smurfs: The Lost Village" included. You'll get a behind the scenes look at how the film was made with both interviews from the cast and animators as well as silly re-enactments featuring adorable kid versions of the talented team. And "Making the Song 'You Will Always Find Me in Your Heart'" goes into the studio with singer Shaley Smith, composer Christopher Lennertz and songwriter KT Tunstall as they record the film's pivotal song, while in "The Sound of The Smurfs," fans hear from composer Christopher Lennertz on how he created a magical score to accompany this colorful and exciting adventure.
SMURFS: THE LOST VILLAGE is also available in THE SMURFS 3-MOVIE BLU-RAY COLLECTION, which includes The Smurfs and The Smurfs 2.
Directed by Kelly Asbury (Shrek 2) from a screenplay by Stacey Harman ("The Goldbergs") and Pamela Ribon (Moana) and based on the characters and works of Peyo, SMURFS: THE LOST VILLAGE is produced by Jordan Kerner and Mary Ellen Bauder Andrews; with Raja Gosnell and Ben Waisbren serving as executive producers. Based on the characters and works of Peyo. Music by Christopher Lennertz. Imagery and Animation by Sony Pictures Imageworks Inc.
DVD and Digital Bonus Materials Include:
Filmmaker Commentary
Meghan Trainor "I'm A Lady" Music Video
The Emoji Movie Sneak Peek
Featurettes:
"Kids at Heart! The Making of Smurfs: The Lost Village"
"Demi Lovato Meets Smurfette"
"Lost Village Dance Along"
"Smurfify Your Nails"
"Baker Smurf's Mini Kitchen"
Meghan Trainor "I'm A Lady" Music Video
"How To Draw Smurfette"
"How To Draw Brainy"
"How To Draw Clumsy"
"Making The Song 'You Will Always Find Me In Your Heart'"
"The Sound Of The Smurfs"
Blu-ray & 4K Ultra HD Exclusive Bonus Materials Include:
Everything listed above, plus:
Deleted Scenes
Featurettes:
Digital (iTunes, Vudu and Xfinity) Exclusive Bonus Materials Include:
Everything on the DVD, Blu-ray & 4K Ultra HD, plus:
"Girl Power! Making Meghan Trainor's 'I'm A Lady'"