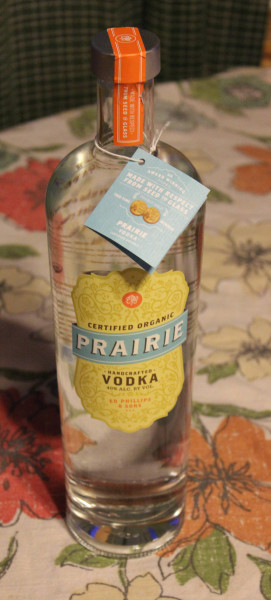 Prairie Organic Spirits has rounded up some of the best cocktail and food pairings that are sure to make this your best Super Bowl party yet! Their product line includes: Prairie Organic Vodka, Prairie Cucumber-Flavored Organic Vodka, and Prairie Organic Gin. They are available nationally at liquor stores, grocers, restaurants, and bars in a variety of sizes. A 750 mL bottle has a suggested retail price of $19.99.
Made with respect from seed to glass, Prairie Organic Spirits is the #1 organic spirit*, offering 100% certified organic vodka, cucumber-flavored organic vodka and organic gin, which are made from single vintage organic corn grown on three family-owned and operated Minnesota farms. Their fields are chemical, herbicide, and pesticide free.
Prairie Organic Spirits is located in Minneapolis, Minnesota. Their family-owned distillery was the first to gasify wood chips and chips to produce energy. Each bottle of Prairie Organic Spirits takes three years of meticulous work and is distilled to taste in small batches, providing a high-quality cocktail experience perfect for celebrating the big game.
Below are some Super Bowl party fan favorites that pair perfectly with Prairie Organic Spirits cocktails!
Prairie Organic Spirits Super Bowl Cocktail Pairings
FOR WOMEN:
Hot Wings and Prairie Cucumber Mojito
It's hardly a Super Bowl party without delicious, spicy chicken wings! But to help combat the heat, pair them with a cool cucumber mojito. The hotter the wings, the more mojito you'll need!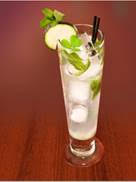 1 ½ oz Prairie Cucumber-Flavored Organic Vodka
1 oz fresh lime juice
2 tsp sugar
6 fresh mint leaves
Cucumber wedge
Muddle mint, sugar and lime juice in a Collins glass. Fill with ice, add vodka and top with soda water; garnish with a cucumber wedge.
Mini Sliders and a Prairie Cucumber Gin Cooler
To balance out savory, juicy sliders, pair them with a Prairie Cucumber Gin Cooler. With fresh rosemary and olives, the flavors will enhance the smoky flavors in the American classic.
1 ½ oz Prairie Organic Gin
4 cucumber slices
¼ lime, sliced
4 oz tonic water
6 mint leaves
1 tbsp sugar
Add mint, lime, gin and sugar to a shaker and muddle. Add cucumber slices to the shaker and shake vigorously. Pour mixture over glass filled with ice, top with tonic water and stir.
Prairie Cucumber Flavored Organic Vodka
Winner of the prestigious Platinum Award at the 2013 Sip Spirits Competition, this crisp, garden-fresh vodka is a blend of soft cucumber and Prairie Organic Vodka With an invigorating, clean finish and just the right hint of cucumber, this vodka is carefully developed so that each batch is distilled in limited quantities to taste, not a prescribed number of times.
FOR MEN:
Breakfast Sliders and a Prairie Mary
For those who start their celebrations early, enjoy Prairie Organic Spirits' version of a traditional brunch cocktail with a classic breakfast slider.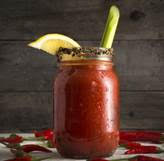 1 ½ oz Prairie Organic Vodka
½ cup tomato juice
A squeeze of fresh lemon juice
Worcestershire to taste
Hot sauce to taste
Celery stalk
Toppings for garnish
Shake over ice and pour mixture (including ice) into a highball glass. Garnish with a celery stalk or any of your favorite organic fixings.
Prairie Organic Vodka
A natural journey from the earth to the bottle, Prairie Organic Vodka is beautifully smooth, with hints of melon and pear on the nose, creaminess on the palate, and a bright smooth finish. Rivaling the most luxurious vodka in the world, the spirit won the Double Gold Medal at the San Francisco World Spirits Competition.
Hot Wings and Cucumber Moscow Mule
We know you like your wings hot! Help tackle the heat with a cool Cucumber Moscow Mule. The hotter the wings, the more you'll need!
1 ½ oz Prairie Cucumber-Flavored Organic Vodka
4 oz ginger beer
1 small Persian cucumber, sliced into spears
Fresh basil leaves
Fresh lime juice from ¼ lime
Ice
Soda water
2 drops bitters (optional)
Take half the cucumber and a pinch of fresh basil, muddle in a highball or copper mug with the lime juice. Add the vodka, bitters and the ginger beer. Stir to mix. Top with soda water, garnish with remaining cucumber spears, a fresh lime wheel and a basil sprig.
Prairie Organic Gin
Prairie Organic Gin debuted in summer 2013 to join the ranks of the few all-American small-batch gin products. With notes of coriander, lemon, and juniper flavors and layers of spicy sweetness, this gin quickly gained industry appeal with its beautifully-balanced flavors. Tasting Panel awarded this gin an impressive 92 point rating in March 2014.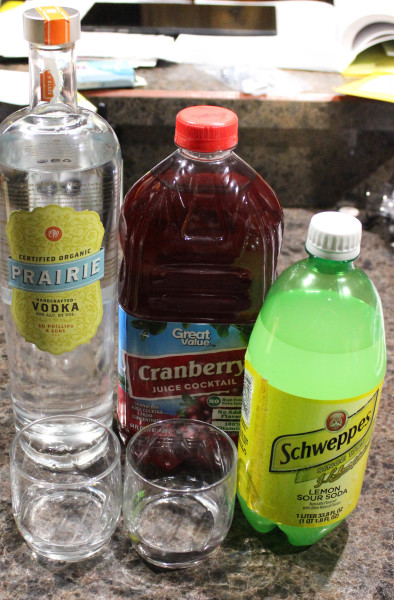 Tonight I tried Prairie Organic Vodka for the first time. Please excuse my husband's messy work space on our kitchen counter in the background.
I quickly made up drinks for my spouse and I with cranberry cocktail and sour mix for a tart and tangy blend. I used 2 oz. Prairie Organic Vodka with 4 oz. of lemon sour soda and also 4 oz. of cranberry juice cocktail. If this is too strong for you, the ratio can certainly be adjusted. I then garnished it with a strip of orange peel for a little color contrast. It is refreshing and smooth as I am still enjoying my drink. 🙂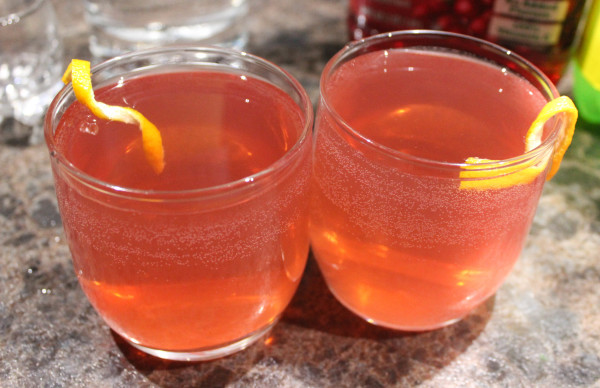 Connect with Prairie Organic Spirits online:
Website: www.prairieorganicspirits.com
Facebook: www.facebook.com/prairievodka
Twitter: www.twitter.com/prairieorganic
*According to the Nielsen 52 Week Sales Dollars Total US week ending 5-25-15
Prairie Organic Spirits is a brand of Phillips Distilling Company, one of the most innovative and enduring distilled spirits companies in the U.S. Over 100 years in the making, Phillips produces high-quality products using only the finest ingredients, sourced from around the globe.