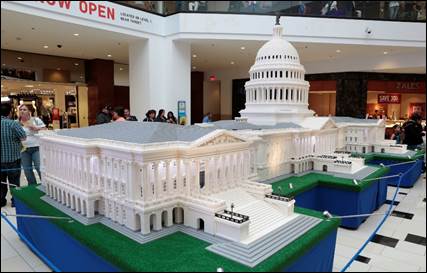 WHAT:
Ridgedale Center will host THE LEGO® Americana Roadshow, a highly visual, educational and free traveling installation of larger than life LEGO replicas of some of our nation's most beloved landmarks.
Ten one-of-a-kind, large scale models of American Landmarks made completely out of LEGO bricks by LEGO Master Builders – including the U.S. Capitol Building, White House, Washington Monument, Jefferson Memorial, Lincoln Memorial, Statue of Liberty, Independence Hall, and Old North Church – take over Boise Towne Square and entertain guests with stunning visuals and fun facts.
WHERE:
Ridgedale Center, 12401 Wayzata Blvd., Minnetonka, MN, 55305
WHEN:
Saturday, July 29th through Sunday, August 13th
Exhibition Hours: Monday–Saturday 10:00am-9:00pm
Sunday 11:00pm-6:00pm
ADDITIONAL ON-SITE VISUALS AND ACTIVITIES:
Behind-the-scenes: LEGO model load-in beginning Wednesday, July 26th (media only upon request)
LEGO Brick Play Area: Children of all ages can build whatever their imaginations dream up
LEGO Building Activity: Attendees can build their own LEGO Americana Roadshow inspired model and take it home with them (8/4 and 8/5 only). This stop will feature the Supreme Court as the take away
LEGO Scavenger Hunt: Attendees can collect a special LEGO prize after completing the LEGO Americana Roadshow scavenger hunt.