This past weekend was exciting and fun. We received our copy of Ice Age: Collision Course plus several other goodies to celebrate #ScratInSpace on Friday. I will share more about that later. On Saturday, we had probably our last outdoor movie night of the year. 🙁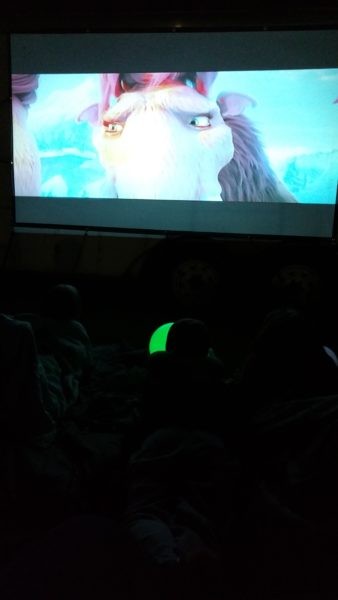 A movie night is best with glow in the dark items. These glow in the dark balloons are fun, but when they do pop and if the batteries and light are not fastened securely, they go off almost like a bomb. My poor nephew got popped in the face by one as he was blowing them up! Thankfully none of the kids were injured. A safer option may be glow in the dark bracelets and finger lights. We had them on hand too.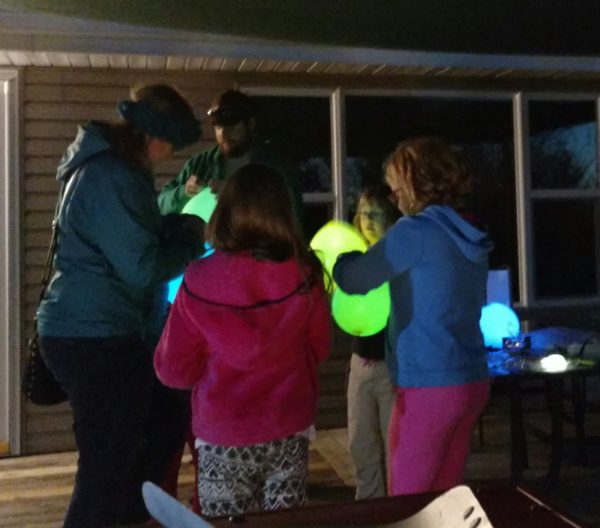 We had a packet of Gamma Beads and I thought they kind of looked like little planets. I placed them in a bowl for the kids to play with. They start off looking like little plastic beads and keep expanding as you let them sit in water. The kids had a lot of fun with these as they waited for the movie to start and at the end.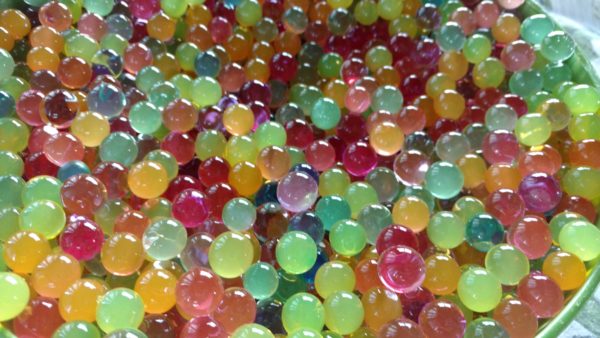 The snacks included popcorn with candies to enjoy like our last outdoor movie night. Since it got dark earlier, I did put out some hot dogs and brats out for guests to enjoy. There was cocoa and hot apple cider on hand to try to keep our friends and family warm as they enjoyed the show.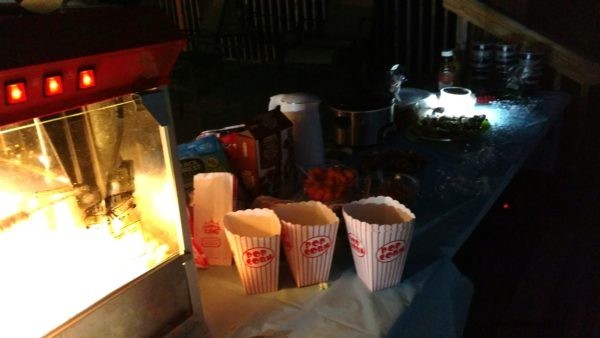 We made Scrat's Elusive Acorn Treats from "One Momma Saving Money" for the event. The store I went to purchase from had bite-size Nilla Wafers and not Mini Nilla Wafers so the acorn tops are a bit larger than in the original recipe.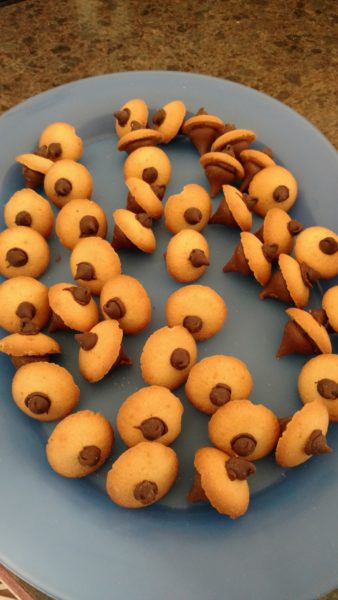 I should have grabbed a photo earlier in the day or had more lighting. The tablecloths were a light blue and then I had ordered these Kurt Adler Ice Wire Clear Garland from Amazon to accent the tables. Thankfully there is no real ice in Minnesota yet.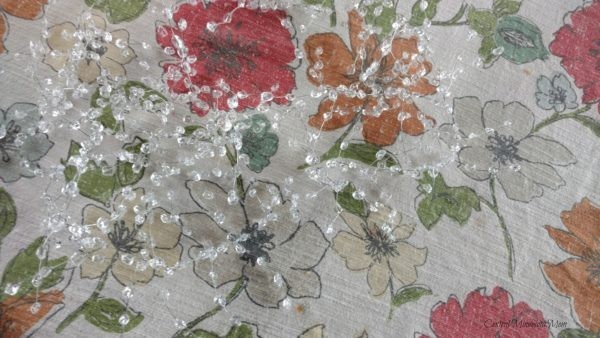 One craft we tried that night was to launch Scrat into outer space. For this activity, you need 3 ml pipettes, straws, glue dots, and a cut out of Scrat's ship. Inspiration for this project is from "Bugsy and Buddy" with Straw Rockets.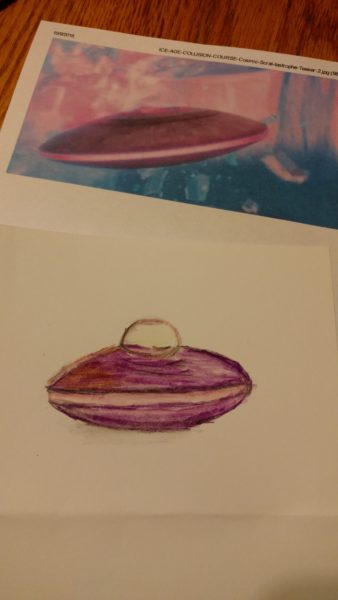 After you have your picture cut out, then you will want to cut down the pipette so it fits over the straw. My space ship looks like a macaroon. 😉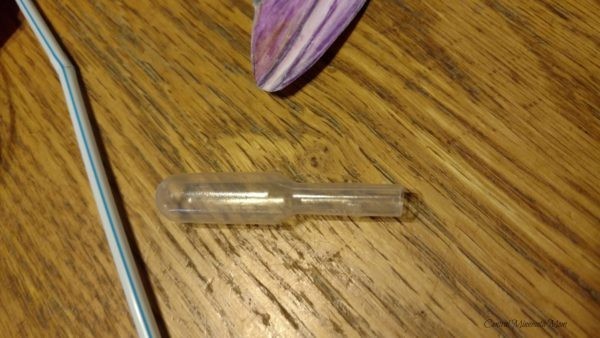 Then a glue dot is added to the top of the pipette and the spaceship cut-out is stuck to it.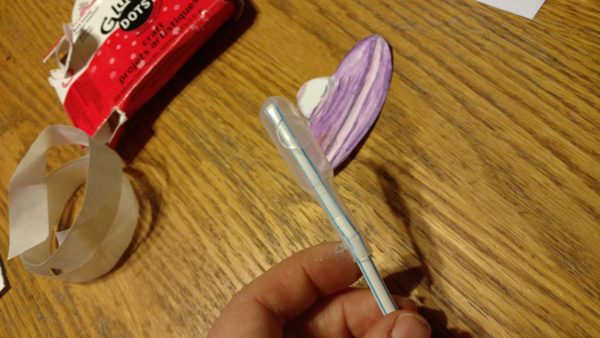 Then you slip it over the straw. We had the cheap style of straws with a flex bend to them.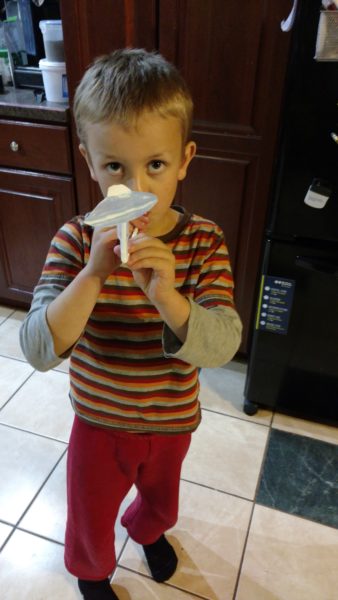 Then just give a blow!
We had other glow in the dark toys for the kids and lavender-scented galaxy dough to go home after the movie. The inspiration for the play dough was from "I Should Be Mopping the Floor". I meant to blue glitter, but I found out it was actually blue glitter glue when I got home! The gooeyness from the glue seemed to be gone before the night. I had some red and purple glitter on hand that I added too.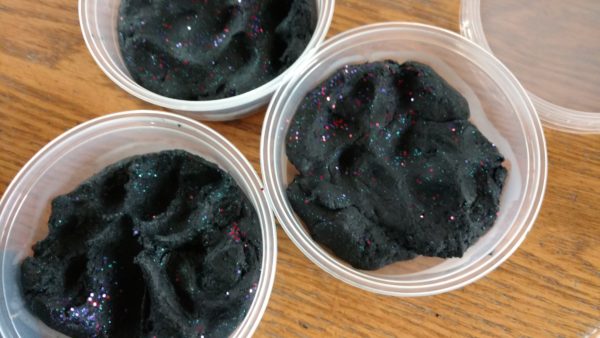 Ice Age: Collision Course came out on Blu-ray, DVD and 4K Ultra HD Disc on October 11. Follow up with your favorite characters as they go out on this new adventure. Peaches is planning her wedding and Scrat almost causes massive extinction, plus more. 🙂