Last month, I was given the opportunity to try HomeDNA Skin Care, a DNA test to learn more insight on how my skin might age over time and ways I might be able to slow the signs of aging.
The test was easy to use and painless. Two swabs were included and both were brushed along the inside of the cheek to collect the DNA. Then they were mailed in for processing.
I sent the samples off on August 27 and was given an e-mail notice that my sample had arrived on September 6. My results were in on September 20. The report was sent electronically and not via snail mail.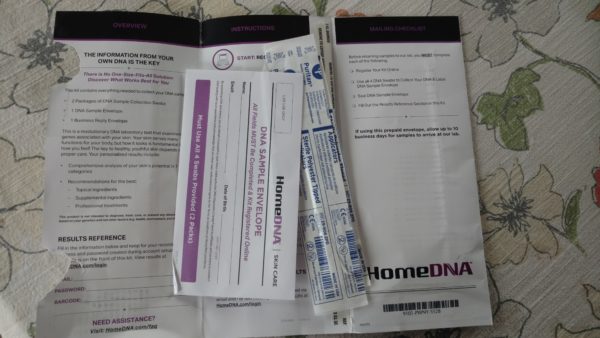 This test analyzes seven categories.
Fine Lines & Wrinkles
Sun Protection
Skin Sensitivity
Skin Elasticity
Pigmentation
Collagen Quality
Skin Antioxidants
Within each of these seven categories, it states what genes were analyzed to produce the results. It then scores your genetic predisposition in these seven categories.
I was noted to have less than optimal genes for sun protection. I find that true because it doesn't take much for me to burn and I had some bad burns in my teens and 20s. My results also indicate nonideal skin elasticity. Topicals, supplements, and a few professional treatments were recommended to try to improve collagen formation. With that being said, my collagen quality also needs improvement.
The cost of the HomeDNA Skin Care is $99. Other tests are available too, like genealogy, joint care, healthy weight, and paternity. HomeDNA also offers a breeds test for dogs and health check based off their DNA.
Disclosure: I received a free test kit for this review. Affiliate links are included for this product.