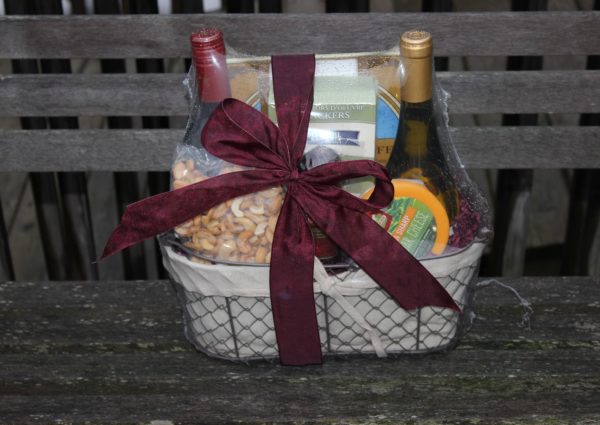 I wanted to share a neat contest currently running from
GourmetGiftBaskets.com
. They are celebrating their 15th anniversary and have more than $2,000 in prizes up for grabs with their
15 & Me Selfie Search
.
The $22 million e-commerce company, which provides hundreds of upscale gourmet gifting options, will turn 15 on
November 15th
. This selfie search invites everyone to join the countdown to this big birthday by posting selfies with the number 15 in them on the company's
Facebook
or
Instagram
pages. All posts must be family-friendly and should contain the hashtag #GGBTurns15.
The "15" can appear on nearly anything — a cake, sign, house, T-shirt, or even printed on paper. Contestants can post as many different shots as they'd like, as well, since all posts count. The contestant with the most creative entry will win first prize – a whopping $1,500 worth of upscale goodies!
The entrant with the highest number of posts will win second prize — a three-month membership in the Monthly Cheesecake Club, receiving a different cheesecake flavor each month.
Finally, 15 third-place winners will be chosen randomly to receive one-gallon tins of handcrafted gourmet popcorn, since GourmetGiftBaskets.com offers nearly 100 popcorn flavors from sweet to savory.
While I have your attention, GourmetGiftBaskets.com has some new items perfect for gifting the guys too.
1.
NFL Popcorn Tins
— $59.99: How great are these, especially for couch-bound quarterbacks and other football game lovers? Tailgate in your family room with these attractive, branded tins reflecting the passion behind several top teams. Currently, GourmetGiftBaskets.com has very colorful, three-gallon tins for fans of nine different teams: New England Patriots, Denver Broncos, Dallas Cowboys, Pittsburgh Steelers, Philadelphia Eagles, Seattle Seahawks, New York Giants, Green Bay Packers and the New Orleans Saints. Some of their all-time most popular flavors for men are included in each tin — Kettle Corn, Cheesy Cheddar and Caramel Popcorn.
2.
MLB Popcorn Tins
— $59.99: Now, if the men in your life would prefer playing or watching baseball, they've got you covered there, too. Sports-team ensconced tins are available for fans of the following teams: Boston Red Sox, New York Yankees, New York Mets, Detroit Tigers, Cleveland Indians, Chicago Cubs, LA Dodgers, San Francisco Giants, and the St. Louis Cardinals. Kettle Corn, Cheesy Cheddar and Caramel Popcorn are the featured flavors in these tins, as well.
3.
Fall Seasonal Beer Bucket
— $69.99: Their seasonal beer buckets have been very popular and this one with its autumnal flavors promises to delight microbrew beer lovers as much, if not more than its predecessors. This bucket includes Oktoberfest by Otter Creek, Pumpkin Head by Shipyard, and Harvest Barn Ale by Long Trail. Snacks that bring out the best flavor notes in these beers include their own handcrafted Hickory Maple Bacon Kettle Corn and Buffalo Popcorn, along with summer sausage, spicy cheddar cheese, crackers, pretzels and nuts.
4.
Halloween Candy Stash
— $29.99: Most guys love candy (and reliving the years of their youth). Well, this new Candy Stash offers enough candy for the guys and the whole family.
5.
Wine Party Picnic Basket
— $89.99: With this elegant basket, you can make any day in life the perfect time for a "wine party picnic" — inside or outside, depending on the weather. This generous arrangement is perfect for the man who's both a wine lover and a foodie. Inside a cloth-lined basket, your favorite man will find a dense, complex Cabernet Sauvignon and a crisp, golden-hued Chardonnay, surrounded by an assortment of classic gourmet treats. The eats in this basket include: cashew brittle, Californian wine wafers, premium cheddar cheese, and more.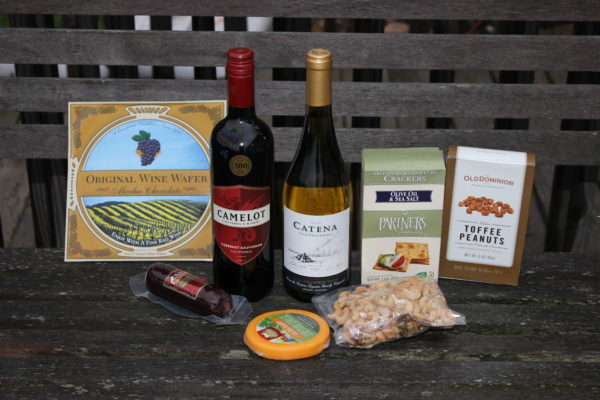 I received the Wine Party Picnic Basket to try out. Unfortunately, we have had cold and wet weather to make having a picnic outside not ideal. It's great for enjoying a night in too.