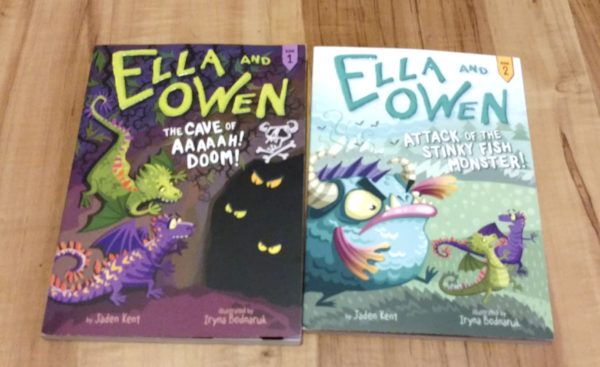 My eight-year-old and I recently read through Ella and Owen: The Cave of Aaaaaah! Doom! and Ella and Owen: Attack of the Stinky Fish Monster!, two new books in a series written by Jaden Kent and published by little bee books.
Ell and Owen are twin dragons. In this first book of the series, Ella and Owen: The Cave of Aaaaaah Doom!, Owen has a cold that doesn't show signs of stopping. As you can imagine with any dragon facing a cold, breathing fire accidentally with an achoo can be a difficult thing. Ella convinces Owen to go on an adventure and visit a wizard to cure him. This wizard lives in a cave, is guarded by a Wicked Wizard Waffle, and this wizard is an evil wizard made of vegetables! There are lots of fun little twists and turns to keep young readers coming back for more.
In Ella and Owen: Attack of the Stinky Fish Monster!, the twins forgot it was their mother's birthday and decide to bake her a cake. Who wouldn't want a fish made of stinky fish or newt? Getting the key ingredients to these two cakes produced by Ella and Owen are not as simple as they might seem. Will they create the cakes in time for their mother's birthday? Check out this book to find out more.
The Ella and Owen series is recommended for children ages 6-8. The font is easy to read and there are plenty of black and white drawings by Iryna Bodnaruk to keep kids entertained. These titles done in paperback are priced reasonably at $5.99 each.
Disclosure: I received copies of these titles in exchange for an honest and unbiased review.