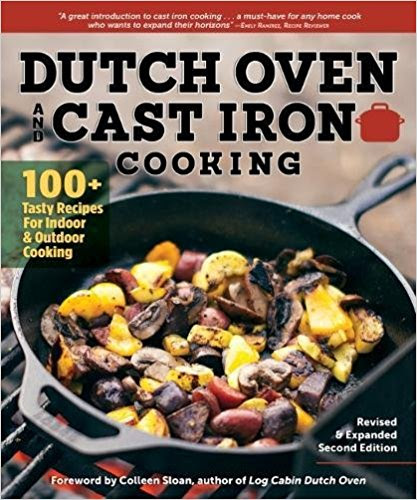 Title: Dutch Oven and Cast Iron Cooking: 100+ Recipes for Indoor & Outdoor Cooking
ISBN: 978-1-56523-911-1
Publisher: Fox Chapel Publishing
Author: Peg Couch
Cooking with cast iron has been done for centuries. It enhances the flavor of foods and adds nutritional iron to your meal. Dutch Oven and Cast Iron Cooking is a revised edition that features over 100 recipes. They range from breakfasts to desserts. These recipes can be implemented with cast iron for indoor and outdoor cooking methods.
I think one thing that might sometimes turn people away from cast iron is the care. The author does a great job explaining how to season, clean, and dry cast iron to keep it in tip-top shape. If traditional cast iron scares you, enamel coated cast iron may be the way to get your feet wet.
With proper care, cast iron can withstand higher cooking temperatures than some other types of cookware, is naturally nonstick, inexpensive, and versatile. Cast iron cookware is heavier so you will want to often have two hands free to move it. Dutch Oven and Cast Iron Cooking has many color photos sprinkled through its pages so you can have an idea of what the recipe might create and to stimulate your taste buds. 🙂
---
About Peg Couch
Peg Couch is editorial director at Fox Chapel Publishing, where she has served as editor for scores of illustrated how-to craft books, including Dutch Oven & Cast Iron Cooking, Spiked Desserts, Edible Party Bouquets, Grilling Gone Wild, Easy Campfire Cooking, and Cake Pops, Cupcakes & Other Petite Sweets.
About Fox Chapel Publishing
Fox Chapel Publishing inspires and informs readers who enjoy a wide variety of hobbies, crafts, and lifestyle interests. The company specializes in illustrated non-fiction with a focus on artisan and high-quality craft books. Fox Chapel publishes more than 1,200 book titles and three quarterly magazines, including DO Magazine, the #1 coloring magazine in its class. The publisher's imprints include Design Originals, IMM Lifestyle Books, and Creative Homeowner. For more information, please visit foxchapelpublishing.com.
Disclosure: I received a copy of this book to review. No other compensation was received for this post.