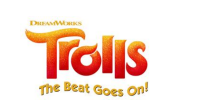 DreamWorks Animation Television presents Trolls: The Beat Goes On! an all-new Netflix original series premiering tomorrow, January 19, 2018! Trolls: The Beat Goes On! is an all-new chapter in the hair-raising adventures of DreamWorks' Trolls, as Poppy, Branch and all of Troll Village keep the dance party raving in their fantastical forest home. Picking up where the blockbuster film left off, the Trolls are settling into a new era with Poppy as Queen. Bursting with their signature positivity, irreverence and a whole lotta original music, Trolls: The Beat Goes On! opens up the colorful world of Trolls for new adventures and a dance party around every corner.
Families and fans will have a chance to meet Poppy and Branch as they visit Twin Cities' events later this month! See details below:
When: Saturday, January 27 from 11:00am – 1:00pm
Where: 364-400 N Market Street, St Paul, MN 55102
Details: It's a TROLLSkating Takeover at Wells Fargo Winter Skate in downtown St. Paul! Meet Poppy & Branch, enjoy some Cotton Candy and get some colorful swag during the last Family Free Skate Day of the winter!
When: Saturday, January 27 at 2:00pm – 4:00pm
Where: West Seventh Street (Smith Avenue to Rice Park)
Details: Watch out for Poppy & Branch in the King Boreas Grand Day Parade as they wind down the streets of St. Paul and wave to fans.
When: Saturday, February 3 from 11:00am – 5:00pm
Where: Landmark Center, 75 W 5th Street, St Paul, MN 55102
Details: Embrace winter with TROLLS: THE BEAT GOES ON! presenting sponsor of Saint Paul Family Day at the Saint Paul Winter Carnival! Say hi to Poppy & Branch and get some colorful swag.
Social
Website: https://www.netflix.com/title/80117560
Facebook: www.facebook.com/DreamWorksTrolls
Twitter: www.twitter.com/Trolls
Instagram: www.instagram.com/trolls
About Dreamworks Animation Television

DreamWorks Animation Television is one of the world's leading suppliers of high-quality, animated family programming, reaching consumers on linear and on-demand platforms in more than 130 countries and garnering 17 Emmy Awards to date. It is a division of the Universal Filmed Entertainment Group (UFEG).