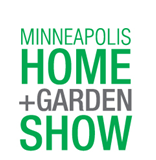 Celebrating 80 Years of Inspiration
Feb. 26 – March 2
Minneapolis (February 7, 2014) — Is it spring yet, Minnesota? The un-official kick-off to spring, the 2014 Minneapolis Home + Garden Show, will take place Wednesday, Feb. 26 through Sunday, March 2 at the Minneapolis Convention Center (1301 Second Ave. So). For five days the Show is sure to inspire homeowners with its more than 1,000 experts sharing new ideas and practical advice as well as hundreds of exhibits featuring innovative products and services. The Show boasts great deals and shopping experiences all related to home, gardening, remodeling, and home décor. Tickets are now on sale online at homeandgardenshow.com. This year's celebrity lineup includes an impressive list of nationally-known as well as locally-grown home and garden experts, including:
John Gidding, host of HGTV's "Curb Appeal" – Wednesday and Thursday on the Lifestyle Stage
Matt Muenster, host of DIY Network's "Bath Crashers" and "Bathtastic" – Friday and Saturday on the Lifestyle Stage
Kevin O'Connor, host of PBS' "This Old House" and "This New House" – Saturday on the Lifestyle Stage
HGTV's Season 7 "Design Star" finalist and Minneapolis native Rachel Kate – Wednesday and Sunday on the Lifestyle Stage
"The Man on the Avenue" Sasha Andreev will present the Show's standout products on the Lifestyle Stage on Wednesday, Friday, Saturday and Sunday
Jay Leno's favorite baker, Marjorie Johnson, will demonstrate her Blue Ribbon-winning ways on the IKEA Kitchen Stage on Thursday and Saturday
Shoyu Executive Chef and recent "cheftestant" on "Top Chef," Sara Johannes, will demonstrate a tasty Asian dish from the IKEA Kitchen Stage on Sunday
Other highlights of the 2014 Minneapolis Home & Garden Show will include new exhibits and old favorites, such as:
The Idea Home – "Rustic Luxury" designed by Viebrock Construction
Situated on a 4,800-square-foot lot, the finished home will be nearly 1,700 finished square feet. It will feature several renewable resources as well as engineered and reclaimed products. Highlights include an eat-in kitchen with custom-built cabinetry and solid surface heated countertops and a cozy stone fireplace with a mantel made of reclaimed timber in the living room. A floating hydroponic vegetable garden, located in the yard, is the work of The Garden By The Woods. and interiors by HOM Furniture.
The Feature Gardens presented by Star Tribune
"Great American Landmarks" is the theme of this year's Feature Gardens. Nine national treasures are recreated in lush floral arrangements, water features and rock formations. From D.C.'s National Mall to the Las Vegas Strip, New Orleans' French Quarter to our National Parks, come and see from sea to shining sea!
From fire station favorites to mother/daughter dishes, the IKEA Kitchen Stage will be host to dozens of cooking demos. Take and seat and learn a new recipe from some of the area's best restaurateurs, chefs, cookbook authors, and media personalities. For a complete schedule, please visit homeandgardenshow.com and click on "At The Show."
Learn from some of the country's most knowledgeable gardening experts on a variety of topics including Straw Bale Gardening, Succulent Containers, and Giving Your Landscape Personality.
See the newest products in home, décor, kitchen and bath, and outdoor living.
Enjoy the Great Outdoors? Check out the latest in biking, hunting, and fishing; meet specialty builders; take a rest in rustic furniture; and discover vacation destinations.
Check out the latest in environmentally-friendly products and services from local companies. Homeowners will learn of new ideas that will help make their homes earth friendly.
From tasty snacks to gourmet treats, guests can sample a variety of foods, sip some wine, check out new kitchen gadgets, and browse unique exhibits.
Art for the Home Minnesota Grown III – Presented by Gallery 13
Gallery 13 returns with an intimate area showcasing unique pieces of art titled "Art for the Home – Minnesota Grown III." This collection leaves consumers visually stimulated all weekend long.
Schedule: Wednesday, February 26 – Sunday, March 2, 2014
Wednesday, February 26 12 – 9 p.m.
Hero Day: active and retired military, police officers, and fire fighters receive free admission.
Thursday, February 27 10 a.m. – 9 p.m.
Senior Day: discounted admission for seniors (60+) at the box office.
Star Tribune Day: Readers will find a $3 off coupon in the February 27 edition of the paper.
Friday, February 28 10 a.m. – 9 p.m.
Saturday, March 1 9 a.m. – 9 p.m.
Sunday, March 2 9 a.m. – 6 p.m.
Kids Day: Entertainment and activities with Radio Disney for the whole family
Tickets prices for adults are $11 online and $13 at the door; $4 for children ages six – 12; children under five are free. The $2 off discount available online is courtesy of Sleep Number. To order tickets and learn the most up-to-date information, visit homeandgardenshow.com. Discounted tickets are also available at Twin Cities Menards stores. Friday through Sunday, Metro Transit will provide free rides on buses and METRO lines to the Show. Visit the main page of homeandgardenshow.com to download and print your free transit pass.
About Marketplace Events: Marketplace Events creates vibrant expositions connecting enthusiasts with experts, products and services in dynamic face-to-face environments. The company now produces 34 shows annually that collectively attract 15,000 exhibitors, 1.1 million attendees and another 1.3 million unique web visitors annually. From multiple offices, the 115-person staff produces some of the most successful and longest-running consumer shows in North America, including market-leading home shows in Cleveland, Philadelphia, Washington, D.C., Orlando, Minneapolis, Indianapolis, Toronto, Montreal and Vancouver–some of which have thrived in their markets for more than 75 years.
Disclosure: I received this information to share with readers. No other compensation has been received for this post.