I consider myself a newbie to blogging and all there is to know about social marketing/media.   I was glad to be recently given the opportunity to review two different resources featuring social media marketing.
I was to compare and decide which one was the best.  I had used the Dummies guides for dog training and bartending, but it has been a few years since I have picked up and read either title.  This was the first of the Complete Idiot's guides that I have personally viewed.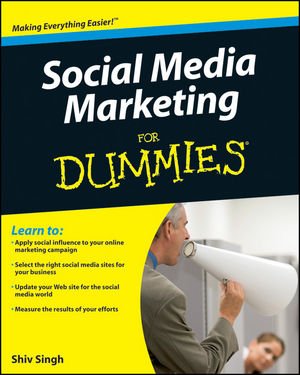 Dummies Vs. Idiot's Guide on a chapter layout
A few pages of Social Marketing For Dummies.  Note the look of a friendly reminder on the right page.
A few pages from The Complete Idiot's Guide to Social Media Marketing.  There is a definition box used on the left for extra information.
Social Marketing for Dummies
is written by Shiv Singh, who is a digital marketer for Razorfish.  This book would be great if you were new to Twitter or Facebook.  It is easy to understand, but if you have tried some aspects of social marketing already, it may disappoint you.  It is very thorough on laying out a marketing plan and implementing ideas to improve exposure.  This book does have a limit of liability/disclaimer of warranty in the front of the book.  It does mention a few noteworthy sites for networking and increasing social media exposure.

The Complete Idiot's Guide to Social Media Marketing
is written by Jennifer Abernethy, who is CEO of TheSalesLounge.com.  If you are familiar with Twitter, Facebook, MySpace, LinkedIn, etc., this book has many great sites that you may be unaware of.  I think the recommended sites would be great to check out in order to increase your online exposure and increase marketing.  It is easy in easy to understand terms that  it won't overwhelm the beginner with social marketing.  It also does state a disclaimer in the front of the book.
The layout of the two books started off very similar and then subject material took a different focus.  The Complete Idiot's Guide to Social Marketing had some nice tidbits throughout the book that are boxed in: definition, try this, netiquette, and online cautions.  Each chapter concludes with a "least you need to know" that lays out some of the basics you should become familiar with in social marketing.
Social Media Marketing for Dummies had icons to promote special points for tips, friendly reminder for some paragraphs, also had a bomb picture for warnings to prevent a potential disaster, and an icon to share info for the technically inclined.  These icons were off to the side by noteworthy paragraphs.  I did not have a section to conclude the chapter like The Complete Idiot's Guide to Social Marketing.
Both books were very easy and quick to read.  I would have to say personally, I found The Complete Idiot's Guide to Social Marketing as a better choice.  I liked it summarized with the section of "the least you should know".  With knowing the basics of Facebook and Twitter, I found this title had more information that I could personally apply and grow with to increase my social presence.  Lastly, I liked the layout with boxed text for important points versus an icon by a paragraph that was noteworthy.
I appreciate the opportunity to compare social media marketing with the two series.  I also get to share a savings to my readers if you would like to do the same. You will be able to save 50% off one order of regularly priced books by using Coupon Code CIGBlog11, at Idiot's Guides.com. The discount code is only good through October 31, 2011. That's a fantastic savings and perfect timing if there are titles that would fit someone on your gift list this year. Thank you!
I received copies of both books, named above, in order to compare them and write this review. No monetary compensation was received and an honest review was required.