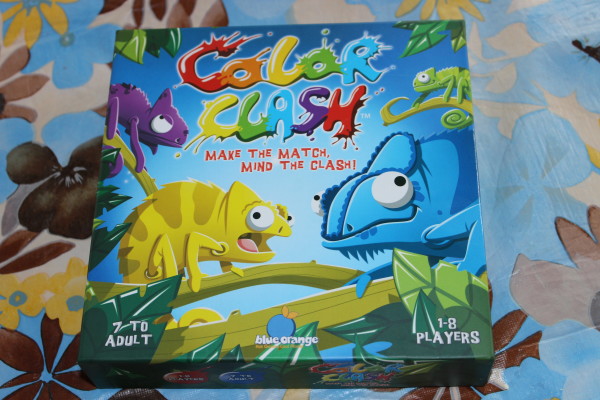 Color Clash is a game from Blue Orange Games for 1-8 players and is recommended for ages 7 and above. If you didn't catch my review earlier this week, my post may be viewed at http://centralmnmom.com/color-clash-game-review/.
Color Clash includes: 36 Clash Tiles, 6 larger Chameleon Tiles, and instruction booklet. The objective of the game is to always (except in solitaire games) score the maximum number of tiles by finding matching colors between the Clash Tiles.
Summary: Race to find the correct tile as the colors clash in your mind! Each of the 36 Color Clash tiles has 3 Attributes: A Picture of different color chameleons, a Word that refers to a specific color, and a Color that the Word is written in Your mind will be challenged to quickly recognize the color a word is written in when it spells another color, also known as the "Stroop Effect" Eight game variations are included in the rule book to mix up the fun!
One reader will win a copy of the Color Clash! Please enter with the Rafflecopter form. This giveaway is open to residents of the USA only, 18+. This giveaway will end on June 4, 2015. The winner will be notified via e-mail.