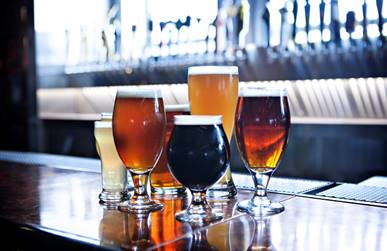 Prost to the season with German-influenced menu items and Samuel Adams Stein Hoisting competition
WHAT:
CITY WORKS EATERY & POUR HOUSE (600 Hennepin Ave., Minneapolis) .invites guests to take part in seasonal Oktoberfest celebrations from Saturday, September 16 – Tuesday, October 3. Special menu items include the Chicken Schnitzel Sandwich with bacon sauerkraut, Pilsner mustard gravy, potato pancakes, and apple onion jam ($14); Spätzle Stroganoff with braised shredded beef short rib, goat cheese spätzle, Cipollini onion, oyster mushroom, red wine braised cabbage, and pepper crème fraiche ($21); and Smoked Potato Croquettes with smoked potato puree, sauerkraut, double smoked bacon, Gruyere, panko, and Dusseldorf aioli ($9).
Beer lovers can also participate in the 2017 Samuel Adams National Stein Hoisting competition at City Works Eatery & Pour House on September 28, where the winner will go on to compete at the regional finals. Winners of the regional finals will then compete in the national finals in Boston on October 27. The champions of the finals will appear on the cover of Sports Illustrated and attend the Sportsman of the Year Gala 2017.
WHERE:
City Works Eatery & Pour House (600 Hennepin Ave., Minneapolis)
WHEN:
Oktoberfest seasonal specials: September 16 – October 3, 2017
Stein Hoisting Competition: Thursday, September 28 at 7:00 p.m.
INFO:
Phone: 612-361-2900
https://www.facebook.com/CityWorksMPLS/
https://www.instagram.com/cityworksMPLS/
https://twitter.com/cityworksMPLS
About City Works
City Works now has four locations across the country in cities including, Minneapolis, Philadelphia, Pittsburgh, Miami and will soon open in Frisco, TX. With 90 local and global beers on tap, the restaurant offers a wide range of rare and unique craft selections. The Frisco location will be open for lunch, dinner and weekend brunch, and prices range from $12-$18 at lunch, $15-$24 during dinner, and $13-$16 during brunch. For more information, or to make a reservation, please visit www.cityworksrestaurant.com.