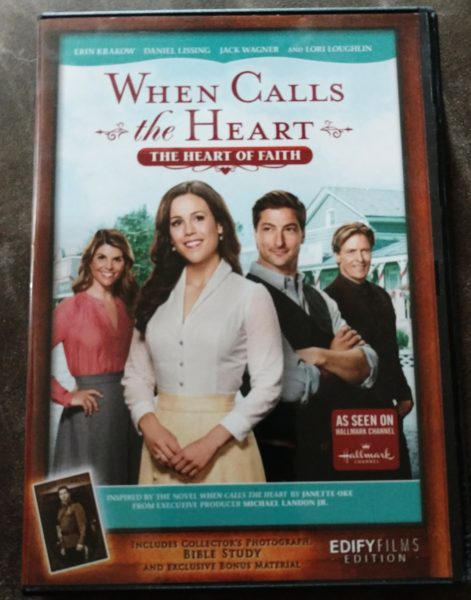 When Calls the Heart: Heart of Faith is the newest title to come out on DVD from the When Calls the Heart series that is based on The Love Comes Softly series by Janette Oke. Michael Landon, Jr., the son of late film and television legend Michale Landon, is the executive producer and director of "When Calls the Heart". Erin Krakow (Army Wives), Daniel Lissing (Eye Candy), Jack Wagner (Melrose Place), and Lori Loughlin (Full House, 90210) star in this series.
In this installment, it is almost Christmas in Hope Valley. Rosemary and Lee had been gone on their honeymoon and just arrived back in town. Lee's house is too small for them now so they are renting next to Elizabeth while waiting for a new, bigger house to be built. What fun for Elizabeth. Elizabeth volunteers to take on all of the Christmas festivities, which were normally Rosemary's doings. The locals are busy trying to make it possible for the mining families in the camp to come to real homes before the holiday and hopefully abandon their tents before colder weather arrives.
A new character named Sam is introduced. He is a traveling peddler. The children think he might be Santa and there is an incident with a piece of jewelry where Jack pins him as a thief. Thankfully it is temporary as Jack later learns of the whole story.
Jack invites Elizabeth to the Mountie ball out in Boston that is right before Christmas. Unfortunately, a supply train derails and it leaves the town without food for the feast, presents ordered for the kids, and costumes for the nativity play. The townspeople of Hope Valley need to decide if Christmas can somehow be saved with a lot of teamwork and faith and Jack and Elizabeth need to decide if they should still step away for their special event.
As a special touch to this DVD, there is a bible study guide included on the DVD. The guide is more than 30 pages long (including notes) and goes with more than 20 minutes of clips that are also on the DVD!he
When Calls the Heart: The Heart of Faith is available to purchase on Amazon.
Disclosure: I received a copy of this movie in exchange for an honest and unbiased review.