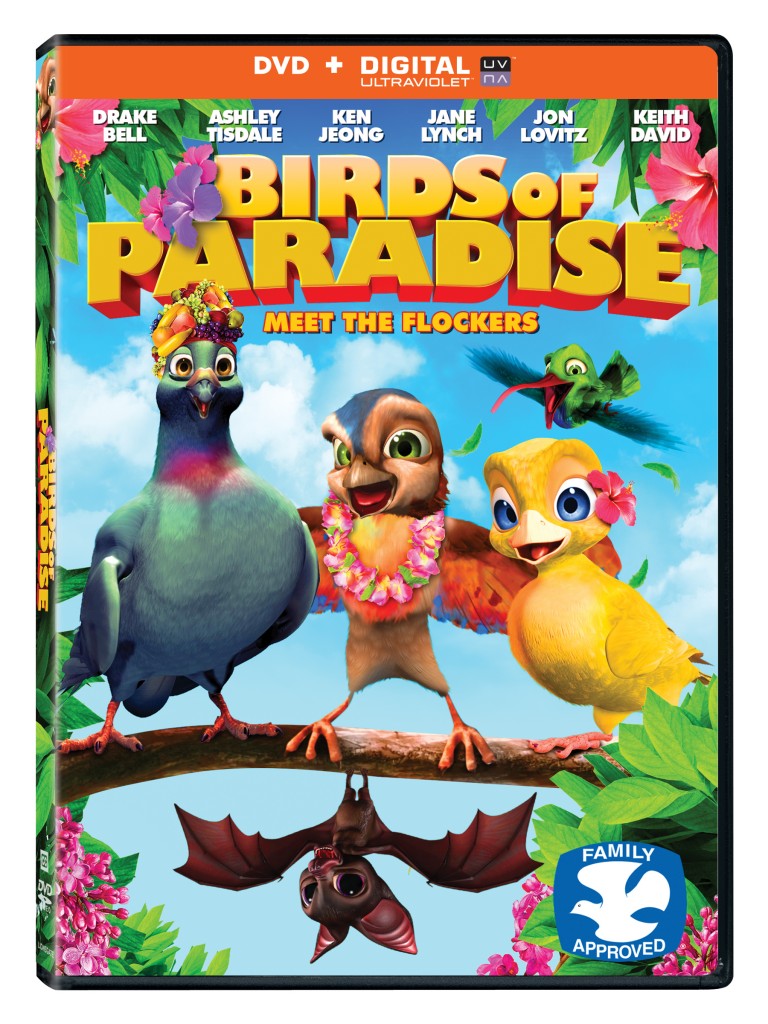 Birds of Paradise from Lionsgate Home Entertainment came out today and is exclusively available at Walmart stores. It is also available on Digital HD and Video on Demand. This title features the talented voices of Drake Bell (TV's "Drake & Josh), Ashley Tisdale (TV's "High School Musical"), Ken Jeong (Despicable Me 2), Jane Lynch (TV's "Glee"), Jon Lovitz (The Benchwarmers) and Keith David (Free Birds). I received a copy of this movie to review and share my thoughts of.
Jack (Drake Bell) is an ordinary sparrow who dreams of becoming an extraordinary bird. He tangles with a cat and manages to live and tell about. As an added bonus from the event, he gets covered by leftover paint cans and feels the colorful paint mess makes him exotic and unique, very desirable. He meets Aurora (Ashley Tisdale), a beautiful yellow canary, who has lived her life predominately in a cage and has come to terms with leaving her owner. Both of these characters could use a boost of self-confidence and find support in each other.
Jack's friends, Vinnie (Ken Jeong), the loyal pigeon, and Skeeter (Jon Lovitz), the zippy hummingbird, help Jack and Aurora out of some mishaps. They also find the support of Rosie (Jane Lynch), the bat, and Old Buzzard (Keith David). They journey together to help combat their fears and understand the importance of true friendship.
Birds of Paradise has been awarded the DOVE seal of approval. It has a suggested retail of $24.99 on Blu-ray and $19.98 on DVD. This movie is rated PG.
I thought the voices were great outside of the female bird screeching being a little irritating. Birds of Paradise seemed a bit slow, but did showcase some important values of character. My three-year-old has wanted to watch it a couple times. My five-year-old and seven-year-old were content with viewing it once at this point.
DVD SPECIAL FEATURES*
"Bringing the Characters to Life – At the Recording Studio with Drake Bell, Ashley Tisdale, Ken Jeong, Jane Lynch, Jon Lovitz and Keith David" featurette
Sneak Peek at Award-Winning Miniscule Shorts
*Subject to Change Her is an activity sheet you can share with your children and please scroll down to the Rafflecopter form and enter to win a copy of Birds of Paradise. This giveaway is open to residents of the USA and you must be 18+ to enter.