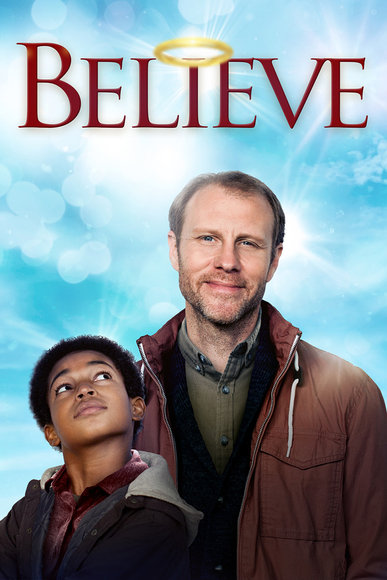 I would like to share a wonderful movie titled BELIEVE that is now out on Digital HD and DVD from Sony Pictures Home Entertainment. BELIEVE stars Ryan O'Quinn ("Alias," "Dad Dudes"), Danielle Nicolet (Central Intelligence, "Born Again Virgin"), Shawnee Smith (Saw, Anger Management), and Isaac Ryan Brown ("How To Get Away With Murder," "Blackish").
In this movie, Matthew Peyton is facing some difficult decisions with his manufacturing business located in Grundy, Virginia. Grundy is a fictional town in this story, but is actually the real hometown of actor Ryan O'Quinn and spot of filming for the movie.
Every year, Matthew Peyton helps sponsor the Christmas pageant as per an agreement with a trust originally set aside by his grandfather. Unfortunately like so much of the world, Christmas has become heavily commercialized with several enterprises now profiting from the event. Matthew is facing hard times like the rest of the town and is struggling with needing to sell the family business or cancelling the pageant.
The trust set aside by Matthew Peyton's grandfather years ago barely covers the insurance for the event and so he asks the city council for financial assistance or the event will not happen. Instead of offering to pitch in, a group follows Mr. Peyton after the meeting, beats him up, and starts his car on fire in the street. Due to this event, he meets a young boy, Clarence, who saves Matthew with this help of his mother, Sharon.
Mr. Peyton is able to repay Clarence's (CJ's) and Sharon's kindness to him with providing shelter and care when a cold storm is to come into town and their heat is out in the building they are staying in. Matthew gets down in the trenches to try and help others dealing with hard times in his community only to have more curve balls thrown at him.
Clarence is heartbroken to learn that Mr. Peyton is connected to the one and only Peyton Christmas Pageant in which he had dreamed of starring in as the angel Gabriel this year. Clarence makes Mr. Peyton believe again in faith that the pageant will still go on.
BELIEVE is a great film for the family. There is some violence so I would recommend for 11+. Believe is available on iTunes and also on Amazon.
Bonus Materials Include a Behind-the-Scenes Featurette, a Blooper Reel & Deleted Scenes
Join the cast and crew as they take you behind-the-scenes in the beautiful state of Virginia with the "Faith Is Everywhere: The Making of Believe" featurette. Bonus materials also include a hilarious blooper reel and deleted scenes.
Directed and written by Billy Dickson, BELIEVE was produced by Nelson Diaz, Ben Holmes, Jacob Patrick, and Kevin Sizemore; with Billy Dickson and Ryan O'Quinn, serving as executive producers.
DVD Extras Include:
Faith Is Everywhere: The Making of Believe
Blooper Reel
Deleted Scenes
BELIEVE has a run time of approximately 119 minutes and is rated PG.

ABOUT SONY PICTURES HOME ENTERTAINMENT
Sony Pictures Home Entertainment (SPHE) is a Sony Pictures Entertainment (SPE) company. Sony Pictures Entertainment (SPE) is a subsidiary of Sony Entertainment Inc., a subsidiary of Tokyo-based Sony Corporation. SPE's global operations encompass motion picture production, acquisition and distribution; television production, acquisition and distribution; television networks; digital content creation and distribution; operation of studio facilities; and development of new entertainment products, services and technologies.
Disclosure: I received a copy of this film to review. No other compensation was received. The thoughts and feelings expressed are my own.