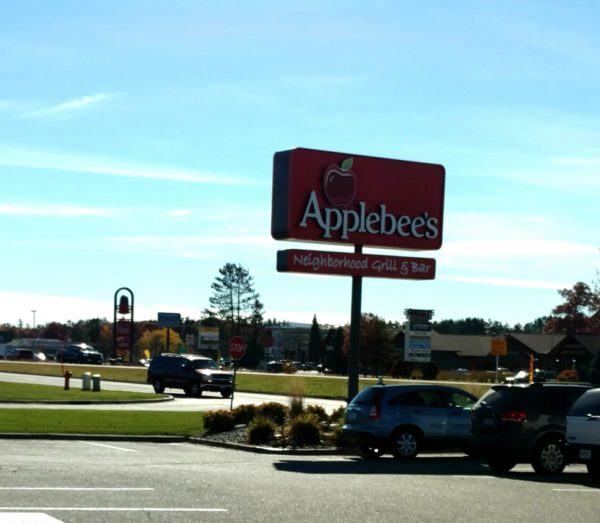 Last weekend, my family and I were out and about in Baxter, MN, and visited Applebee's for lunch. We got to check out their 8 oz. USDA Choice top sirloin steak and two delectable sides for just $9.99. These steaks are hand-cut and seared over American split-oak logs. They are accurately cooked to the doneness you request.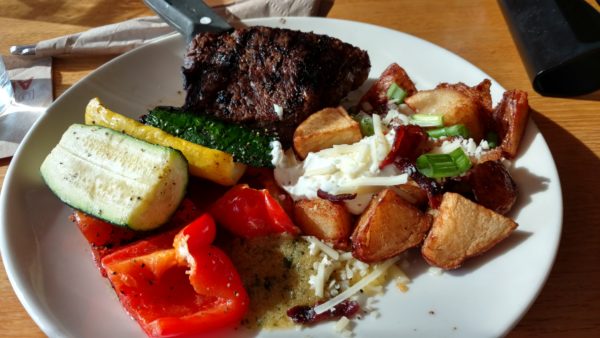 I had my steak with crispy cheddar bacon potatoes and fire grilled veggies. Yum! Yum! My steak was tender and flavorful. The potatoes were crunchy on the outside with soft, moist centers and had cheese, bacon and onion smothering them. The veggies were tasty and fresh with a light seasoning.
Here are choices available for the two sides:
Classic
New

Crispy Cheddar Bacon Potatoes

New

Garlicky Green Beans

New

Hearty Grains and Rice
BBQ Spiced or Classic Fries
Steamed Broccoli
Baked Potato
Garlic Mashed Potatoes

Top off your baked or mashed potatoes ($1.79)
Signature
(for an additional $1.29 each)
New

Fire Grilled Veggies

New

Maple Pecan Mashed Sweet Potatoes
Garlic or Sweet Potato Fries
4 Cheese Mac and Cheese
Applebee's 8 oz. USDA Choice top sirloin steak and two delectable sides for $9.99 is available only for a limited time, until November 13.
Giveaway:
Applebee's has provided me with $25 electronic gift certificates (need to be printed to redeem) for two giveaway winners to then visit their restaurant locations and check out this special. Please use the Rafflecopter form below to record your entry being done. To enter you will need to also comment on this post with a compelling/interesting/unique reason you deserve a steak. Good luck and thank you for your participation!
Disclosure: I received an Applebee's gift certificate to then purchase and review their $9.99 special. No other compensation was received for this post. The thoughts and feelings expressed are my own.