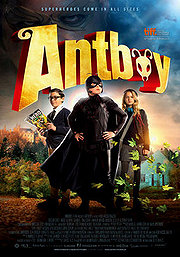 In Antboy, a 12-year-old boy named Pelle tries to fit in at school without being picked on by a small group of bullies. One day he out runs them and ends up in someone's backyard. While there, he is bitten in the neck by an ant. He awakens after the bite, looks still like himself, but discovers a few additional features, like super strength, highly acidic urine that destroys what it lands on, and an insatiable appetite for sugar.
Pelle befriends Wilhelm, who becomes his sidekick. After developing an alias and developing a basic grasp of his powers, Pelle then practices his powers on a purse snatcher and becomes a local hero.
The citizens of his town, Middelund, are shortly after terrorized by a man who goes by the alias of "The Flea". Pelle finds out that "The Flea" is pretty much a mad scientist. He had used powers of a bug to help his mother fight her illness, but then the funding for his research was pulled and research destroyed. He created the unique ant that bit Pelle and harnessed the powers of the flea for himself.
"The Flea" then kidnaps a young girl to avenge the death of his mother and seek revenge on the owner of the lab who destroyed let him go. "Antboy" steps in to save the town from this super villain.
My seven-year-old liked this movie. It's kind of a silly/fun movie that features a kid that can do something extraordinary. She had asked me why "The Flea" fed on blood (don't worry – they don't go in detail on the type of blood or how he gets it) that was supplied as a tube in his neck from canisters on his back. Otherwise, it was just entertaining.
Antboy was released on DVD and digital in July from Cinedigm. This film is based on the popular Danish comic series by Kenneth Bogh Anderson.
Full of heart, humor and one special hero, Antboy is directed by Ask Hasselbalch, and produced by Birgitte Hald, Eva Jakobsen and Lea Lobger. A Dove Foundation approved film, it garnered "Best Children/Youth Film" and "Best Visual Effects" at Denmark's 2014 Robert Festival, and also screened at the London Film Festival and the Portland Film Festival.
DVD BASICS
Price: $14.93
Language: English
Running time: 77 minutes
Rating: PG
Disclosure: I received a copy of this film to review. No other compensation was received for this post. The thoughts and feelings expressed are my own.